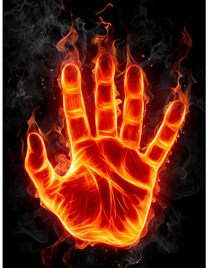 It all started last month. In response to the "International Burn a Koran Day" nonsense that loopy preacher tried to get going this last September 11, we tried to suggest a viable and more friendly alternative. Namely, "International Burn a Jay Day." Far out, right?
Posting the idea on our Facebook page drew a great deal of goodwill from all over the world. And we don't think it was only because it had a photo of a big-bosomed blonde woman smoking a huge spliff with marijuana leaf pasties covering her nipples.
Nay, we think that our campaign played some minor part in helping angry folks out there realize that they were spending too much time thinking about burning stuff which would not actually get them high. Plus, ashes tend to make a mess, just like Donnie's did. And also, tolerance and sensitivity and rational thinking and all that.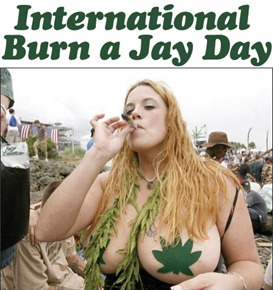 The result: Dudeism stepped in and helped save the day. International Burn a Koran Day was cancelled. Probably a lot of those fundamentalist types got so stoned that their enthusiasm for book burning abated.
Unfortunately, evil forces are at work in the world, and on October 8th our International Burn a Jay Day thread was shut down. We have reason to believe it's all part of a massive conspiracy.
On that dark day, Facebook alterted us that we had broken their rules by posting content that promoted drug use and nudity and were forced to take down the thread. But of course, we find it impossible to believe that Facebook would care about an image in which the nipples were covered and only mere marijuana was being hinted at. After all, everyone knows that marijuana is a very healthy substance which is about to be almost legalized in California soon, the state in which Facebook is incorporated. It's not like Facebook is censoring the fan page for the TV show Weeds, right?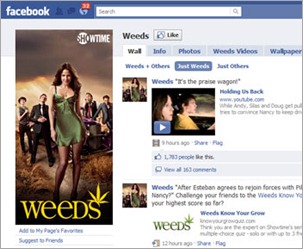 So what's really going on here?
Religious persecution, that's what. No longer "the slowest growing religion in the world", Dudeism now has over 100,000 ordained Dudeist Priests worldwide. And that's enough to raise the hackles of the religious fundamentalists who (we suspect) secretly supported and financed Reverend Terry Jones' "Burn a Koran Day."
How do we know?
Easy. The Dude said it himself: "It's like Lenin said. You look for the person who will benefit, and, uh, uh, you know?"
Facebook doesn't benefit by censoring us. Top heavy stoner chicks don't benefit by being removed from cyberspace. And Islamic radicals certainly don't give a flying fuck about International Burn a Jay Day (they're partial to hashish themselves). The only people who stand to lose anything from the accelerating spread of Dudeism is the religious status quo, that's who. Real reactionaries.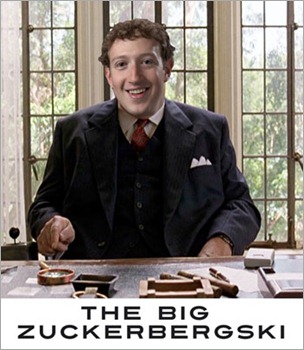 Not that we're going to do anything about it for now. But we're just saying (fingers pointed at our eyes, fingers pointed at theirs) – We're watching you, paraquats. And we've got plenty of Visine.
Of course, we could be wrong. It might be that Facebook CEO Mark Zuckerberg is just a Dudeism-hater. After all, he doesn't seem to be one of us. Maybe we should organize some peace talks, pass the pipe around.
What say you, Dudeocracy? Shall we dance with the devil in the pale dude light?
Then again, it's probably the holy fascists. Facebook may be the de-facto new world religion, but it's surely not as bad as the old ones.