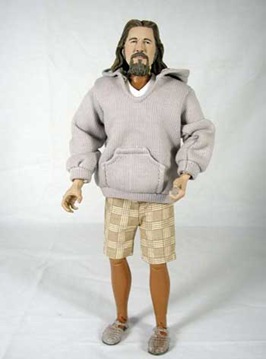 Hey just stumbled across a very cool pop culture blog by a young lady named Valerie D'Orazio. She'd posted this link to some talking Big Lebowski dolls but we found another entry in which she addressed the mystical and psychological power of The Big Lebowski even more intriguing.
In a nutshell, our lady friend Val visits a New York palm reader who is clearly full of crap but nevertheless imparts a foreboding sense of the heebie jeebies in our otherwise strong-willed heroine. However, a surprise Lebowski twist ending shows once again that the Dude often shows up just when we need him most. He'll be there, man.
Which isn't to say we believe in superstition or that there's a literal connection, only that we take comfort in that.
We also dig how Valerie's original ambivalence toward the sacred source gives way at the end to her taking soothing solace in Dudeism.
The Dude leaves his message after the beep, but sometimes it takes a minute (or the right mood) to hear it.