Reverend Colin Flahive reminds us that things could be worse, and used to be. The evening news and social media would have you think it's the end of the world. But is it?

The Dudeocratic Party's Campaign to elect Calm & Reason as state-of-mind. When it comes to politics people can get carried away with their emotions, we urge everyone on all sides of the issues to just, take it easy, man.

An in depth analysis of the connection between Taoism and Dudeism. This academic paper seeks to answer the question, is Dudeism a philosophical descendant of Taoism and the Tao Te Ching?

Reverend Mike the Buddhist-Dudeist Priest shares some of his observations about abiding with us. He offers some ways to help stay chilled out and zen-like in the face of some modern day challenges.

Arguably America's first Great Dude in History, Ben Franklin was our first self-help guru. After acquiring enormous success as an achiever, Franklin spent the rest of his life pursuing the Way of the Dude. Part of his Dudely success came because he had developed an easy to follow system of virtue.

Reverend Ben Gale shares his observations about the metaphoric similarities between a tasty White Russian and Dudeist existentialism. Taken separately light and dark can be too bland or too bitter. However, when the two are mixed as a whole they can be just right.

Arch Dudeship Dwayne Eutsey's revie of The Dude See Scrolls by William Nuna Fielder. A trippy epic, in a world gone crazy.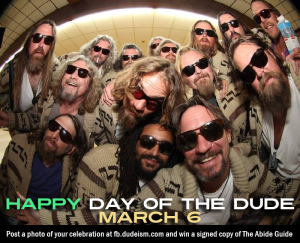 This March 6 is the Day of the Dude and also our (sort of) 10 year anniversary. So we're running a contest! Winners will receive a signed copy of our book, The Abide Guide.

Troy Lambert takes a look at the ways Buddhism and Dudeism share some similarities. How much does Dudeist enlightenment resemble Buddhist enlightenment?

Taking a look at the big questions, about god and an afterlife, and how they relate to Dudeist philosophy.