Arch Dudeship Dwayne Eutsey's revie of The Dude See Scrolls by William Nuna Fielder. A trippy epic, in a world gone crazy.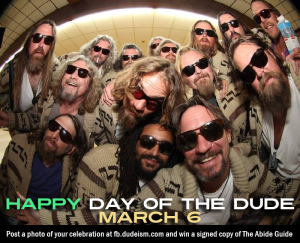 This March 6 is the Day of the Dude and also our (sort of) 10 year anniversary. So we're running a contest! Winners will receive a signed copy of our book, The Abide Guide.

Troy Lambert takes a look at the ways Buddhism and Dudeism share some similarities. How much does Dudeist enlightenment resemble Buddhist enlightenment?

Taking a look at the big questions, about god and an afterlife, and how they relate to Dudeist philosophy.

Chris Barclay explains why time spent in leisure can be the most productive time for creativity. We think the Dude would agree.

Bowling or playing pool are just a couple of ways to find your inner Zen. Rev Thomas R. Bell gives some insight and advice for finding "the zone" in your game.

Rev. Michael A. Emero gives us three easy steps to finding a more happiness through abiding.

The slacker performs an important function in our society. Rev Kris Harrison explains how the slacker archetype hero has been a staple of civilization, and why that's a good thing.

Hiram Crespo shares his insights into Epicurian philosophy with us. Epicurus preached his version of the Take it Easy ethos centuries ago.

Same sex marriage is now the law of the land in the US. We here at the Church of the Latter-Day Dude think that's far out. Dudeism supports the notion that you can't have too much love or freedom, so long as that love and freedom don't hurt anyone else.