Soon to come: A real, online university for deep Dudeist studies: Abide University.
Until then, scholarly papers concerning Dudeism and The Big Lebowski can be found here…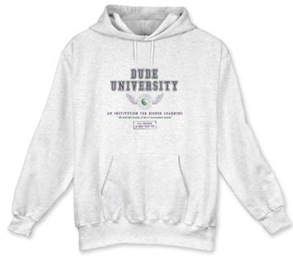 Want a Ph.Dude degree? At Dude University we've collected the more intellectual, generally longer-running articles that deal with things Dude, Dudeist, Dudeitarian, Dudeological, and Dudeaphysical.
Any students or professors out there with articles, theses or just ordinary homework they'd like to publish here (plastic baggie not necessary)? Or even just crackpot cranks with scholarly dissertations of Dudeist genius?
Please send what you've got to us at duder@dudeism.com and we'll peer-review it over a few oat sodas.
OUR CURRENT LIBRARY:
What Condition Our Condition is In
By Kerry Gibbs
The Koans, Brother: Bernie Glassman and the Zen Peacemakers' "The Dude Abides" Koans
By Bernie Glassman and the Zen Peacemakers
"Secret shit": the uncertainty principle, lying, deviation, and the movie creativity of the Coen Brothers
By David Lavery
Unspoken Messages: Notes on Lebowskian Theory
By David Thorsteinsson
Psychological analysis of the Dude – A Psychological analysis of personality: The Dude in The Big Lebowski
James Kerr, BEd
The Man for His Time: The Big Lebowski as Carnivalesque Social Critique
Paul "Pablo" Martin & Valerie Renegar
Material for the Study of Dude [Part 1]
By Barry Popik, David Shulman, and Gerald Cohen
More Material for the Study of Dude[Part 2]
By Barry Popik and Gerald Cohen
More on Dude [part 3]
By Barry Popik and Gerald Cohen
The Big Lebowski Goes to the Polish Wedding: Polish Americans – Hollywood Style
By John J. Bukowczyk
Fans by any other name: A study of "normal" movie fans and "cult" movie fans byTimothy E. Craig
The Dude Abides: Just War Theory, Pacifism, and Dudeism in The Big Lebowski
By Richard Aucoin
The Coens' Effort: The Big Lebowski
By Anne Lehwald
The Big Lebowski Experience – An Overview
By Rev. Oliver Benjamin
I Am The Walrus? Musical Representation in The Big Lebowski
By Rev. Sean Reedy
The Cabalah, Philosophy and Buddhism
By Rev. Marek Bazgrzacki
Tarot Yes, Mr. Lebowski: The Big Lebowski, Kabbalah and Tarot
By Rev. Marek Bazgrzacki