By Rev. Stella Quinn
High Priest of Zymurgy
I should begin this by admitting that I like the Eagles. Lots of their tunes rock, and the Eagles will forever have geek street cred as the authors of "Journey of the Sorcerer" which served as the theme song to The Hitchhiker's Guide to the Galaxy. I'll now try to get back in the good graces of my fellow Dudeists by saying that I dig Creedence way more than the Eagles. However, the first time I saw The Big Lebowski I was puzzled by the fact that one of The Dude's strongest emotional reactions is to the fuckin' Eagles, man. The Eagles literally wrote the tune telling us to "Take It Easy." So why doesn't the Dude dig what they do?
Upfront it can seem baffling that Creedence would get the place of honor in the Dude's car's tape deck and the Eagles are so offensive as to warrant a protest that gets you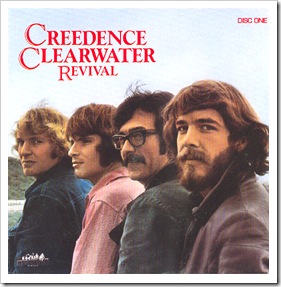 kicked out of a cab. Both bands can fairly be accused of being, as Holden Caulfield would put it, phonies. John Fogerty was definitely not born on the bayou, and I seriously doubt that Glenn Frey ever stood on a corner in Winslow, Arizona with seven women on his mind. Both bands broke up due to personal conflict and creative control issues. So what's the big difference between the two?
Quite a lot, it turns out.
Band origins were the first giveaway. The Eagles have an unapologetically polished studio sound. They were really more of a supergroup of seasoned session artists with specific business goals, much in the same way that Led Zeppelin was when they started out. It's not that the Eagles' decision to quit playing second fiddle and create their own band isn't admirable, but the origins of Creedence feel more Dudely because the band began with friendship, not a business plan.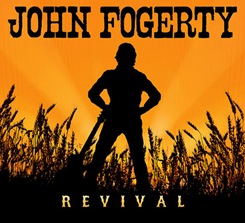 Fogerty wasn't from the bayou, but he was from Berkeley, California, a place that was the epicenter of political thought in the sixties. (Now it's populated by trust fund hipsters sitting at Starbucks using their iPhones to tweet about The Corporations, Man. Bummer.) The members of Creedence grew up in the same town and went to high school together. Every member of the original Eagles lineup was from a different state and didn't meet until their careers as hired guns were well underway.
Like the Dude, John Fogerty was on the wrong side of authority figures. Creedence's old record label ripped off record proceeds for years from Fogerty, even though he wrote almost every song the band ever recorded. They even sued him for playing his own song, claiming it sounded too much like one of his old songs. Which he wrote. Fucking fascists. For this exact reason, I'll openly admit that I won't pay for Creedence songs. As a method of protest I've ripped every one of them from a friend's CD. If Fogerty ain't getting paid then neither should the record company, as far as I'm concerned. And I'd like to think that the Dude would approve of principled digital piracy.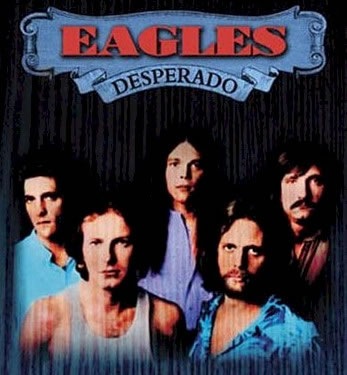 The Eagles, on the other hand, had an arsenal of lawyers at their disposal and never lost control of their music due to the naive belief that their record labels wouldn't screw them over with bogus contracts. When they broke up they were still able to fulfill their contract obligations by releasing an album without ever being in the same studio together. That takes business acumen that a conscientious objector like Fogerty wouldn't have wasted time on.
Most importantly to the themes of The Big Lebowski, Fogerty narrowly escaped being sent to 'Nam by joining the National Guard. So when he wrote "Fortunate Son" he knew what the fuck he was talking about. "Ramble Tamble" gripes about fucking fascists of the sort that run Malibu. "Who'll Stop the Rain" celebrated the power of numbers in the counterculture movement, and "Run Through the Jungle" protested the proliferation of guns in urban neighborhoods.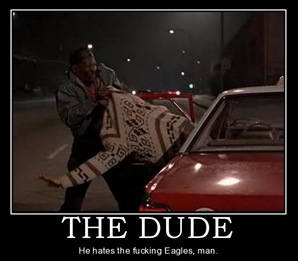 The Eagles didn't write protest music. They wrote really great studio-polished pop songs performed in a rock style. While the members of Creedence were steeped in the political revolution of the late sixties, the Eagles weren't around for any of it. Before 1971 they were touring as hired guns for Bob Seger and Linda Ronstadt. When they got together, they recorded their first three albums in Britain. They were making art, not politics, going so far as to compare their rock star lifestyles to that of Old West outlaws on their second album Desperado. Creedence stayed right at home in California, laying down every one of their tracks in San Francisco and Los Angeles.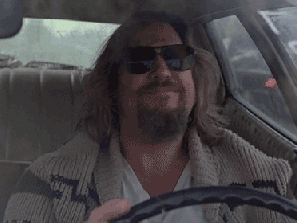 I theorize that the Dude's hatred of the fuckin' Eagles is not overt. It's more that their music offers nothing to The Dude's ethos. Everything the Dude is just jives a little better with Creedence and isn't reflected in the Eagles. Music can do a helluva lot more than a rug to tie the room together. The Dude didn't steal the Big Lebowski's rug and then go home and lie on it in silence. He put on his headphones. Sure, maybe he listened to the sound of the 1987 Venice Beach League Playoffs, but that's got to be music to The Dude's ears. Likewise, if I'm gonna light some candles and have a nice relaxing bubble bath, I'm definitely cranking up "Long as I Can See the Light" and not "Hotel California."
I don't think that Dudeists are required to share the Dude's dislike of the Eagles. That would be, like, dogma and stuff, which is super un-Dudely. But I believe we can all appreciate and respect the reasons behind his taste in tunes, and keep a special place in our tape decks for Creedence.