This week was rather momentous – I seem to have accidentally stumbled on a "religion" (for lack of a better term) that suits me, with no tweaking, twisting, turning, etc., necessary on my part or on its part. It's called "Dudeism," and is based solidly on Taoism, which I've been learning more about via Zen Buddhism in recent years; the Tao is applied to the cult movie favorite The Big Lebowski, and voila, instant accessibility (not to mention quotability) to an anxiety-ridden, tired Westerner such as myself.
It's a funny thing, because to a-religious folks like I tend to be, the fact that it identifies itself as a "religion" is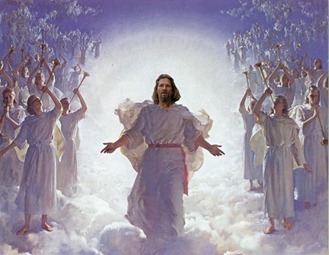 suspect; yet, to people who self-identify as religious, it could be construed as one big, disrespectful joke. I guess that's why I like it: it's neither, and both. It's a whole grey area unto itself, and grey areas are where most of us dwell, if left to our own devices. That's why, at various times in the past, non-religious "religions" like Discordianism and the Church of the Sub-Genius have been briefly interesting to me – they're kinda sorta belief systems, but also not really, and the "practice" always involves sardonic humor and irreverence. The big BUTs for me were that they're not really based on something sincere and meaningful, and their followers (from what I've seen, and I could very easily just not have come across the right people) tend to be arrogant, condescending, mean-spirited assholes with absolutely no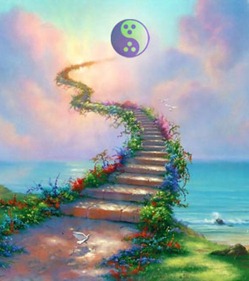 respect for anyone who isn't exactly like them. Conversely, Dudeism is based on the ancient Taoism, a philosophy full of wisdom, humor, connection with the natural world, and respect for all creatures, then filtered through a hilarious and wonderfully crafted modern movie. The followers tend to be smart but kind, funny but not disrespectful, and just not weird. Seriously, what's not to like?
When I saw The Big Lebowski years and years ago, I remember liking it, thinking it was a great story with a lot of humor, but it wasn't an instant favorite, and I kind of forgot about it until a couple-three months ago, when a friend loaned their DVD to my sweetie and I after we said "We really should watch that again." We watched it three times in a weekend ("Stop Making Sense" is the only other movie we've ever done that with), and each time it just got better and funnier. I "liked" The Big Lebowski on Facebook, and read the various updates they posted, and that was about it.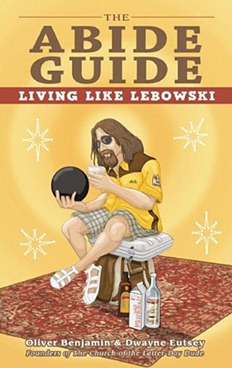 BUT – earlier this week, they posted something about a related book coming out this summer, so I read about it – in the previews/reviews, Dudeism.com was mentioned, and I checked it out for a funny diversion. I did the snap judgment of "Ha! People will make a religion out of anything these days!" And kept reading, just for kicks.
Then a funny thing happened. You know when you hear an outstanding harmony between two voices, and it just resonates, literally, physically resonates somewhere in your head or the area of your heart? People talk about getting that feeling when they finally found a philosophy or religion that fit them perfectly. They describe it also as a feeling of "coming home." Out of the blue, I got that sensation when I read the following: "The idea is this: Life is short and complicated and nobody knows what to do about it. So don't do anything about it. Just take it easy, man. Stop worrying so much whether you'll make it into the finals. Kick back with some friends and some oat soda [beer] and whether you roll strikes or gutters, do your best to be true to yourself and others – that is to say, abide." That's from the "What is Dudeism?" section at dudeism.com. It is so, so simple, and to make it otherwise is, for me, a waste of precious energy.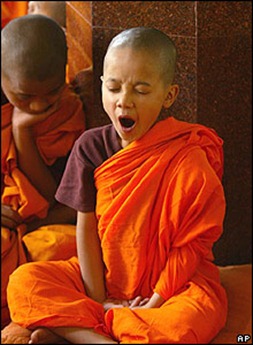 This comes at a good time, too – I was recently diagnosed as having a kind of generalized anxiety thing going on, which is absolutely exhausting and soul-sucking when it runs unchecked. This news likely doesn't surprise anyone who has been my friend for any amount of time. Since putting a name and an awareness to this condition I've had for about as long I can remember (and thought was "normal," and blamed myself for just not being able to always keep a stiff upper lip in handling it, which of course just made it worse), I find that I'm able to dissipate the anxiety before it builds up too much and interferes with my life, just by using some coping techniques and remembering a different perspective that I learned from a Professional. Thinking about the recurring quotes "Just take it easy, man!" and "The Dude abides" from The Big Lebowski and Dudeism is a quick and easy way to calm myself until I can do the more intensive techniques later. It sounds so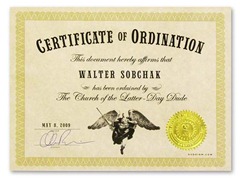 very stupid and shallow, but I don't care! It works. Man.
So here I am, daydreaming about using my newly acquired Ordained Dudeist Priesthood to marry people, or making up other ceremonies, and thinking about metaphors with dairy products and vodka, and rugs tying a room together. And just generally feeling lighter and better about things. It is simultaneously hilarious and meaningful, and therefore, a perfect fit for me, at least for the time being.