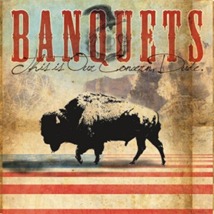 The friendly fellas in the band Banquets have allowed us the exclusive (for now anyway) right to stream the songs from their new album "This Is Our Concern, Dude." Check them out below!
Note that while the name of the album is taken from The Big Lebowski (they're all really big fans), the songs don't reference the film in any way. Still, it's a nice dose of punkish rock to help keep your mind limber. Interestingly they have another version of the album out called "Nothing is Fucked Here."
If you want to put them on your music player or what-have-you, you can purchase This Is Our Concern, Dude or individual songs from it here. You can also purchase the physical 7" record at The Black Numbers.
Enjoy!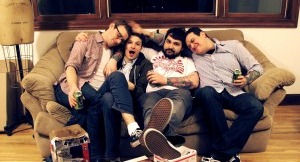 Lyndon B. Magic Johnson
[audio:01 Lyndon B. Magic Johnson.mp3]
Eleanor, I Need a Garden
[audio:02 Eleanor I Need a Garden.mp3]
What a Bunch of Aaron Burrs
[audio:03 What a Bunch of Aaron Burrs.mp3]
I Wish I Was a Little More Lou Diamond Phillips
[audio:04 I Wish I Was a Little More Lou Diamond Phillips.mp3]