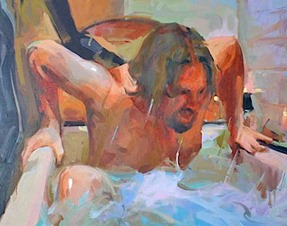 (Whale songs optional)
By Rev. Paul H. Purdy
Part of the abilities that come with the title of Dudeist Priest includes officiating weddings, performing funerals for lost loved ones, religious counseling for people that need help getting back on track or just some kind words, and blessings such as the topic of this article on baptism. In the Christian faith it is a initiation in to the church in a manner of taking God into you life and devoting yourself to him. In the grand view of things its about dedication and comfort in that path of life.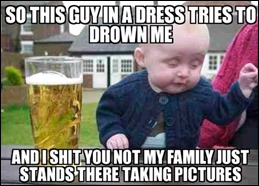 A big part of the baptisms I have seen comes down to the power of three. Wash over three times symbolizing God the father, Jesus the son and the holy ghost. It is a good strong standing point three is a strong number even in Dudeism the three-hole grip of a bowling ball, the three adversaries of the Dude, the three ingredients of the White Russian, and the Dude's fellowship (Walter, Donny and himself) of three. Even the Nihilists were a gang of three. So I say the power of three is a strong part of Dudeism as well. Why throw out the baby with the baptism water?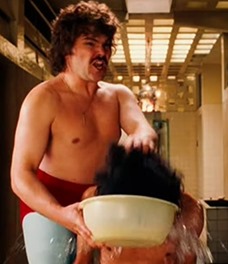 In Dudeism our holy liquids come down to White Russians and oat sodas both are alcoholic. In traditional baptism churches use holy water. And being a good percentage of baptisms are preformed on babies I personally would tend to keep alcohol away from any one under 18, so I would keep with plain old water from the tap or a bottle it don't matter in my book. On a side note some churches will use ashes and rub it lightly on the forehead this is fine too so long as they are not still hot.
In a Christian Baptism you are dedicating you life to God/Jesus, which fits in with the church's teachings. So, working from this basis, what would a Dudeist be dedicating his or herself to?
Well that is simple: our core values as I see them are total equality regardless of belief, race, gender, sexual orientation and so on, to abide with what life gives us and take it easy without infringing upon the freedoms of others. I would say that those are good morals to be instilled with and raised upon.
Ok I have rambled on enough to the point I may have lost my train of thought. Now to the fun part: How would I myself go about doing a Dudeist baptism? Now my ideology is not set in stone, so feel free to add to it or do you own rendition.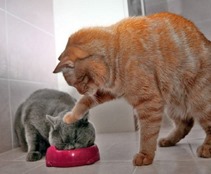 Dudeist "Baptism" as Rev. Paul H. Purdy imagines it:
Dip your thumb middle and ring finger in a bowl of plain water (with your bowling hand) bring the three fingers close tougher with out touching them together. Lightly tap the forehead with all three fingers. Say:
The Dude, Walter & Donny three friends brought together in a tight bond of fellowship, able to take it easy and abide what life brings them. With friends like these man, anything is possible. On this day [insert name] is being welcomed in to a Dudeist family of friends. From this day forth may [he/she] always take it easy and abide in the Dude's way. For life is not a league game — sometimes your toe may slip over the line, but when you do try and take it easy and see if it's worth being the deadbeat the square community wouldn't care about. Lifetimes in this universe are a cycle we can only take as much as we give. That's how the whole darn comedy perpetuates itself. Down through the generations, across the baptisms of time.
Welp, that about wraps 'er up.