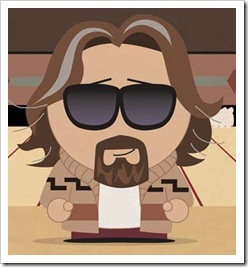 By Rev. Stella Quinn
Are you a Dudeist with a couple of Little Lebowskis hanging around your bungalow? Need a way to keep them entertained without falling prey to mass-marketed brain-cell-killing crapola like Pokémon? Never fear, Stella is here. I've got some recommendations for literature that will satisfy the most reactionary of ankle-biters and help Dudeist parents feel good about the content they're pumping into the gray matter of their spawn.
First and foremost on any Dudeist parent's list? None other than that most Dudely of bears, Winnie the Pooh.
Pooh is sometimes called a bear of very little brain, but this seems like an unfair slander to me. He's got quite a lot in common with The Dude. He seems to have the art of Takin' Er Easy down pat, while Rabbit, Owl, and Eeyore are always wound up about something Big Lebowski-ish: status, possessions, and power.
The Pooh and the Dude sure have a lot in common: Just as The Dude is not Mr. Lebowski, The Pooh is not Mr.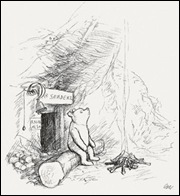 Sanders, despite that being the name on his door;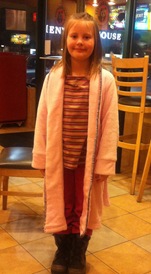 the Pooh cruises around naked while the Dude wears his jammies just about everywhere. Pooh's hobbies include playing Poohsticks, eating Hunny, and wandering around the woods, stumbling across new adventures as he goes, while the Dude's hobbies include bowling, smoking a J, and wandering around the urban jungle that is Los Angeles, stumbling across new adventures as he goes.
The Disneyfied version of Pooh strays considerably from the character's more Zen Dudeist origins, so consider picking up copies of When We Were Very Young, Winnie-the-Pooh, Now We Are Six, and The House at Pooh Corner if you're raising a little Dude and want a positive literary role model. For older kids and grownups who want to delve a little deeper into the philosophy of The Pooh check out The Tao of Pooh, a book which explains Taoism using the characters from the Winnie the Pooh series.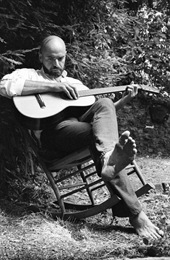 Another classic author that any Dudeist should read is Shel Silverstein. He is the deservedly respected author of hilarious yet laid-back poems and drawings. Silverstein was one cool dude. He was the writer of A Boy Named Sue and wrote travelogues for Playboy. I strongly recommend works such as A Light in the Attic and Where the Sidewalk Ends, which contains this particularly Dudely gem:
A tree house, a free house
A secret you and me house
A high up in the leafy branches
Cozy as can be house

A street house, a neat house
Be sure and wipe your feet house
Is not my kind of house at all–
Let's go live in a tree house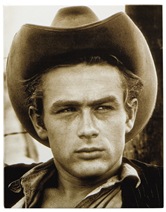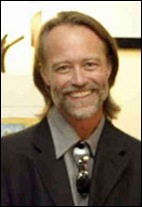 I recently came into contact with a new favorite book for kids. My two-year-old niece Lily introduced it to me, and I can't think of a better book to teach Dudeist principles in a fun way. It's called Pete the Cat: I Love My White Shoes. It's by Eric Litwin and James Dean. No, not the James Dean on the left, the one on the right.
But don't worry — he's still cool.
Dudeist parents and non-breeders alike would dig this book. Pete is a hip cat who really digs his shoes, which appear to be a set of white Chuck Taylors. He loves his shoes. As he travels along, he ends up stepping in stuff that changes the color of his shoes. But he doesn't let it get to him. No matter what color his shoes turn, he's stoked to be wearing them. In real life we'll run into similar obstacles. Things change. Life gets messy. But we can still enjoy it all. The book closes with the phrase "It's all good." And it is! My niece loves this book, and her reading of it is so hilarious I made a video of us going through the story:
If you're a Dudeist parent or a Dudeist kid, be sure to check out this excellent contribution to taking 'er easy at your local bookstore or library.
As a postscript, I'd like to throw out a list of stuff to avoid if you want your little Dude to stay Dudely.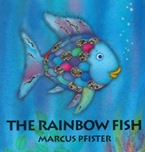 The Rainbow Fish
This book by Marcus Pfister has remained incredibly popular because it's packed with gorgeous watercolor paintings of sea creatures, which have been augmented with shiny foil stamping to enhance the fish scales of the title character. This book is FUBAR. The Rainbow Fish is the envy of all the others because it's pretty. When his buddies ask him if they can have some of his scales, he says no, so they all shun him until he RIPS THE SKIN FROM HIS BODY and lets them integrate the pretty shiny scales into their own flesh. Unless you also think Silence of the Lambs is a heartwarming family film, give this one a miss for it's seriously bizarre failure at teaching a lesson about sharing.
Anything Disney Princess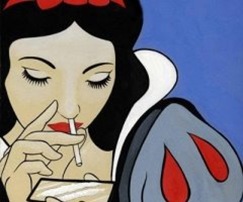 There's a massive market of gender-stereotyping crapola out there designed to get money out of your wallet and trademarked merchandise into the hands of your kids. Virtually all Disney movies are based around un-Dudely principles of heteronormative gender roles based on the idea that girls have to meet unattainable standards of beauty for the sole purpose of finding a husband who can protect them. That sucks, because the art in Sleeping Beauty blows me away and the music in Snow White is still catchy after nearly seventy years.
There are a few notable exceptions to Disney's generally bad presentation of female characters — Bambi, Finding Nemo, Monsters Inc., Mary Poppins, Enchanted and The Princess and the Frog come to mind. But in general, beware of the term "Disney Princess" as it's more properly translated as "Transparent shallow sexed-up wet blanket in need of guidance from a powerful male figure." That's bad messaging for both boys and girls. I sincerely doubt Maude would show any of that crap to the Little Lebowski, especially cinematic suppositories like Pocahontas. I know it can be unpopular to criticize Disney since that company has so successfully marketed its way into our cultural sentimentality, but be brave. I know you can
Pop Tarts
Kids can't compete with the sophisticated marketing that steamrolls them into liking numerous young stars whose talent, appearance, and image is a flawlessly manufactured effort to suction money from parents' pockets in exchange for 400,000 Mary-Kate and Ashley Olsen movies. The percentage of child stars who end up in jail, on drugs, and/or dead is high enough that you'd think that as a culture we'd be more outraged at the process that creates allegedly family-friendly entertainment. Sadly, Disney is also a frequent culprit here, having guided the process that turned this: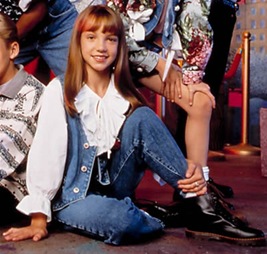 into this: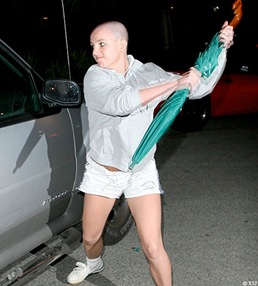 and this: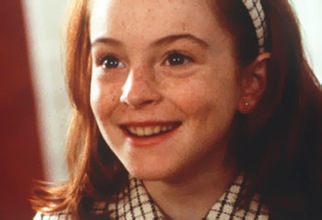 into this: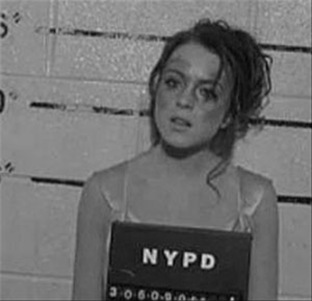 Pop music for kids is a highly lucrative and exploitative business that pushes a product that kills brain cells faster than heroin. Trust me, your little Dude is way better off listening to Creedence than the Jonas Brothers.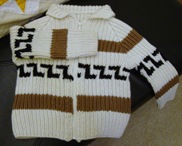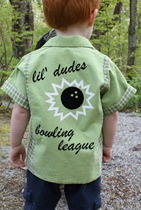 Being a parent is a tough job, but we're lucky in that now thanks to the Internet parents have a lot more choice in the content they can expose their kids to. Most parents wouldn't feel ready watching The Big Lebowski with their little Dudes for a variety of reasons. Nudity, dismemberment, and 6,337 incidences of the F-word come to mind. But until that magical day when they are ready to see the film that is every Dudeist's guiding star, there's a lot we can do to help them prepare.