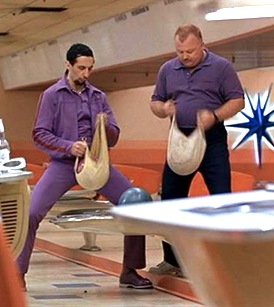 Hey, the Lebowski Podcast folks (Chalupa and Liz) are holding a contest that's both ballsy and nutty! And other testicle metaphors!
If you haven't had a chance to listen to either our interview with Jim Hooiser or our 35th episode from November, you probably don't know about a new item available at the Lebowski Fest store. It's a bowling ball shammy, you know, those ball buffers that Liam and Jesus were using in The Big Lebowski to buff their bowling balls.
The bowling ball shammy available at the Lebowski Fest store isn't something new to the bowling world, but it is being endorsed by Jim "Liam O'Brien" Hoosier. Jim used to be a professional bowler so he's knows a thing or two about bowling. These come in two different colors, white and blue, have a silhouette of President Nixon from the bowling poster above The Dude's tiki bar, and a signature by Jim Hoosier himself.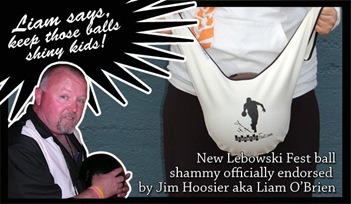 We're teaming up with Lebowski Fest during the holiday season and are giving away a couple of these bowling ball shammies to our listeners. If you'd like to win one, all you have to do is send us an email telling us why you need one. Liz and I are going to pick two winning entries on December 15th. This will ensure the prizes being shipped before Christmas. If you're serious about winning, it'd be best to not be into the whole brevity thing and get verbose in your entry. We don't even care if you embellish things a bit. We're just looking for something interesting and funny to read off to the listeners on our December episode.
To help you get started, I've prepared a few links here that I thought would help you out. We look forward to reading your entry. We'll be giving away two more shammies in January 2010, but we're planning on changing up the details on how to enter.
Lebowski Fest Nixon Ball Polisher