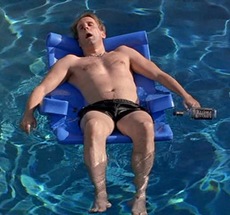 by Chalupa
Lebowski Podcast
It can sometimes be unnerving and embarrassing when someone who's opinions we value, points out something to question in our lives. This can be something serious or something quite trivial. Say your best friend makes fun of your favorite shirt or a new haircut. Or what if your co-workers cracked jokes about your new desktop background? Has a crowd ever yelled something offensive at you from a sidewalk or street corner? It's not fun having your ego and self-worth tested.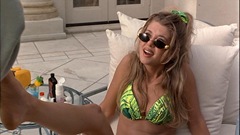 One thought we've had for an Lebowski Podcast episode is to critique The Big Lebowski from a moral standpoint. Even though I love the Coen Brothers' 1998 masterpiece dearly, I can tell you exactly what my mother would say if she saw it. She wouldn't appreciate the swearing, she wouldn't like the sexual aspects, and she would really dislike Walter. How do you recommend a film like this to someone with different film watching values from your own?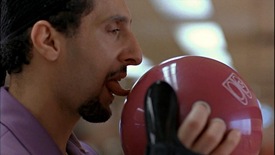 Apologists are people who defend things that are brought under public scrutiny or persecutory examination. The most common types are Christian apologists who have taken on the task of defending and recommending their faith to others, but before we get off some rabbit trail about how The Church has wronged you or you think they're all a bunch of hypocrites, let me make something clear: The Church is not the issue here.
What I'm trying to say is, how would one defend The Dude? How can I justify my favorite movie to people who disapprove of its content? How can I bring my opponents to see the

redeemable morals where they see only drunkenness, substance abuse and debauchery.  Even though the term apologetics has turned into something seemingly bad as of late, I'm wondering how I can be a Lebowski apologist in the classical sense. Another way to put it would be that I'm interested in the aesthetics of The Big Lebowski.
Putting all personal feelings and issues aside, what would you say to someone that brings up an issue about your favorite film? I must admit that Jesus Quintana was one character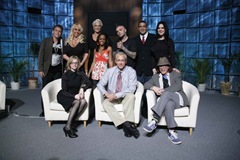 that immediately stood out to me after my first viewing. Would I really love "the Jesus" if he were a character in the film The Woodsman? The guy's a pervert, a pederast, a friggin' child molester. What about how Jackie Treehorn treats objects like women? Does that really uplift the spirits of our mothers, daughters, sisters, grandmothers and special ladies? Furthermore, Walter has some pretty serious anger management issues. And The Dude, bless his heart, would probably make a good candidate for Dr. Drew's reality TV show, Celebrity Rehab. Even The Stranger makes a point of trying to lovingly correct The Dude:
                THE STRANGER: I like your style, Dude.
                DUDE: Well I dig your style too, man. Got a whole cowboy thing goin'.
                THE STRANGER: Thankie, there's just one thing, Dude.
                DUDE: Whassat?
                THE STRANGER: D'ya have to use s'many cuss words?
So what are we to do? Is this even a battle we should choose to fight? What groups of people would you advise not to see The Big Lebowski? I have some answers, but am more interested in what you have to say. We will be doing an episode on this topic in the near future and I would love to include your input. As always, we appreciate your notes.