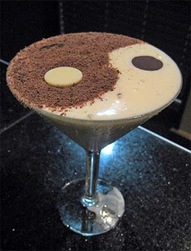 By Rev. Patrick Murphy
I use the word 'chill' as my philosophical thesis
And make every attempt (or lack thereof)
To keep my chi on an ever kilter.
After all, add two Ls to 'chi' and you've got?
        that's right: chill.
What do those two Ls stand for?
Well, that's on you, my friend  
        — and therein lies the beauty.
Maybe you know right off the bat what your Ls are.
Maybe they mean absolutely nothing.
Maybe you'll go on a metaphysical journey of introspection to find out.
        (Doing a J whilst soaking in the tub listening to whale music 
        would be a prime catalyst for said introspection.)
But in the end, as long as you're chill — it's all the same.
And that's cool, man.
That's cool.