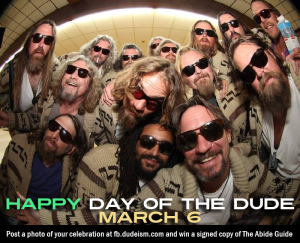 Hey Dudes! As most of you know, our high holiday, The Day of the Dude (March 6) is almost upon us. What you might not know is that this is more or less the 10th year anniversary of Dudeism, as it was launched at the end of 2005.
To help celebrate, we're running a contest – post photos or videos of yourself celebrating The Day of the Dude this Sunday, March 6 and you'll be in the running to win free copies of our book The Abide Guide, signed by co-author Oliver Benjamin (The Dudely Lama).
Please post photos or videos on our official Dudeism Facebook page.
Since the Day of the Dude is all about taking it easy, we suggest you post pics or videos of yourself having fun or relaxing. You don't have to involve Dudeist iconography (i.e. The Big Lebowski) but it could help us dig your style.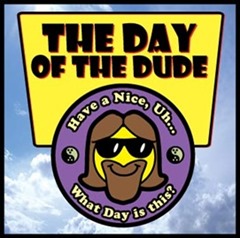 We're stoked to be celebrating this holiday with you and look forward to many more decades of Dudeism.
Here are some previous articles about The Day of the Dude to help inspire you!
http://dudespaper.com/the-day-of-the-dude.html/
http://dudespaper.com/the-day-of-the-dude-2011-relax-recap.html/
http://dudespaper.com/the-weekend-of-living-duderously.html/
Take 'er easy, mankind!