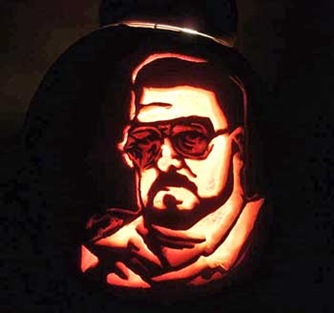 In honor of Halloween this year one of our zestfully enterprising Dudeist Priests, a fella by the name of Eric Aschim sent us what are surely the dudeliest jack-o-lanterns ever. Maybe it'll inspire some of you out there to carve up some highly commendable versions yourselves!
Happy Halloween 2009. We presume a lot of you will be outfitted in some sort of Lebowskian attire. Send photos and maybe we'll post a gallery a few days after the holiday.
Word to the wise: Don't trick or treat for candy at the Jackie Treehorn estate – he makes a hell of a candy apple.