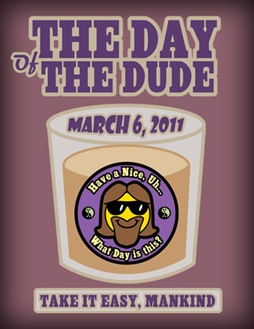 Hey Dudes! It's that time of year again. Our high holiday is upon us again on Sunday, March 6th, in which we say to the entire world…
Just take it easy, mankind!
The Day of the Dude is probably the laziest religious holiday around, high in the running for laziest worldwide. How do you celebrate it? By getting as relaxed as possible. So get together with friends, arrange a party, or go bowling, but under no circumstances should you do anything that causes any stress. Unless, of course, you dig stress, in which case who the fuck are we to tell you not to freak out a little.
So this year, try to gather your Dudeist (or Infidel) friends together for a nice relaxing time. Either that, or just hang out and read a book or take a long bath with a tape of whale sounds. The important thing is that you use The Day of the Dude to honor the spirit of our holy avatar by enjoying some well-executed attacks of the chillax. Please send us photos of whatever it is you end up doing (or not doing) so we can post it here for a recap of the blessed event.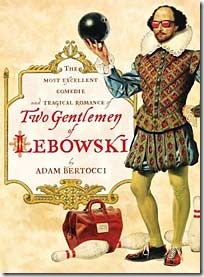 The "Two Gentlemen of Lebowski" Giveaway!
In honor of the 2011 Day of the Dude, we're giving away 100 copies of Adam Bertocci's far out masterpiece of Shakespearean Dudeism, Two Gentlemen of Lebowski.
All you've got to do is this: fill out a form and tell us why you dig The Big Lebowski. The beauty of this plan is its simplicity. We hope to collect all the answers into a book or put it on one of our website's pages, or use it for further study at Dude University.
There's a bunch more going on as well: Our new book The Abide Guide is coming out soon, the Kindle ebook version of The Dude De Ching is available. And there's lots more around the corner.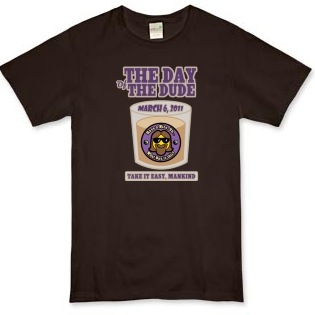 Also, if you act fast, you still have time to order Day of the Dude 2011 tee shirts and stuff which will help sanctify the day. Of course, your old bathrobe will do just fine.
Make us proud, Dudes. Take 'er easy for all the sinners of the world. It's the modest holiday which is your charge, the most modestly priced festival of laze.
Abidingly,
The Dudely Lama