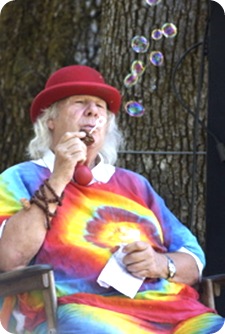 They say if you can remember the '60s you weren't really there.
The Dude, for example, doesn't recall much from that tumultuous decade beyond breaking into an ROTC building, smoking a lot of Thai stick, and bowling.
Although living in the fucking past isn't part of the Dudeist ethos, there are some things worth remembering from across the sands of time. That's why we revere the many Great Dudes in History who have taken it easy for all us uptight sinners down through the generations.
One such Great Dude is a fellah we want to tell you about, a fellah by the name of Wavy Gravy, whose 75th time around the sun begins on May 15. As a hippy humanitarian, clown activist, organizer of Woodstock, and former frozen dessert, he fit right in there in his trippy time and place. There's also much we can learn today from this laughing, compassionate beatnik Buddha wearing a Bozo nose.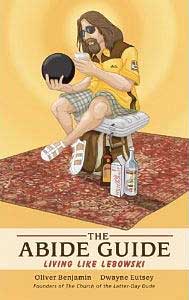 That's why we here at the Church of the Latter-Day Dude are bestowing upon Wavy Gravy the status of honorary High Dudeist Priest. To remember some of the abiding wisdom this Great Dude has to offer, we're also reprinting here our homage to Wavy Gravy in the "Great Dudes in History" section of our upcoming Abide Guide (available for pre-ordering).
Have a happy birthday, Mr. Gravy! We take comfort in knowing you're out there, man.
From The Abide Guide:
Great Dudes in History: Wavy Gravy
Saint Misbehavin'
It may just be our opinion, man, but anyone who has had a flavor of Ben & Jerry's Ice Cream named after him has pretty much attained instant Great Dude status.
The late Grateful Dead guitarist Jerry Garcia, for instance, has pint-sized monuments of munchie-crushing Cherry Garcia stocked in supermarket frozen dessert aisles. For awhile there, the counter-culture clown and all-around decent human being called Wavy Gravy also had a nutty blend named after him.
Although Ben & Jerry's discontinued Gravy's ice cream brand a few years back, not even global warming can begin to melt away his cool, karmic legacy of compassionate craziness.


The Illegitimate Son of Harpo Marx and Mother Theresa[1]
"Wavy Gravy" isn't a name most of us would self-apply.
Although the actual handle Wavy Gravy's lovin' parents gave him was Hugh Romney, he never had much use for it himself. In 1969, when a comical misunderstanding led blues guitarist B.B. King to think Romney's name was Wavy Gravy, Romney felt that appellation fit right in there with his freaky self-actualization during the '60s.
When he was "Hugh Romney" in the early part of the decade, he had hung out in Greenwich Village with his pals Bob Dylan and Lenny Bruce, writing and performing poetry and rambling monologues. By the late '60s, though, "Wavy Gravy" seemed more appropriate for someone who found himself out west tripping with the Grateful Dead and founding a hippy commune on a hog farm.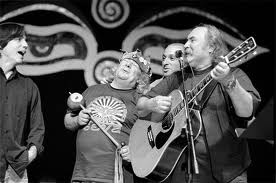 Gravy also adapted his clownish persona around this time as a result of getting roughed up and arrested by reactionary cops during antiwar protests. He started wearing clown make-up and clothes to demonstrations because, he figured, who wants to be seen beating up a clown?
It was at Woodstock as real political reactionaries threatened to have the National Guard clear out the hippie haven that Gravy's clownishness became deeply infused with the Dude Way.
During all the rain storms, bad acid, and a potential violent crackdown, he and the others running the concert nonetheless staved off the negative energy and conjured up three days of peace, love, and music. Gravy believes it was because they surrendered their individual egos to an amazing energy in the universe that worked through them to create a momentary muddy heaven on earth.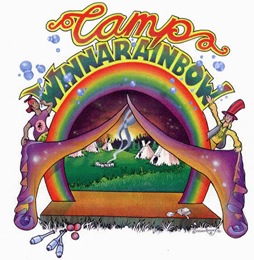 This energy continued to spill Wavy Gravy across the sands of time, inspiring him to use his clownish persona to make the world a better (and funnier) place.
As other '60s activists grew disillusioned and apathetic, Gravy helped feed starving refugees in Kathmandu; he regularly cheers up sick children in hospitals; he co-founded the Seva Foundation, which helps provide health to impoverished communities around the world; and he and his wife run a performing arts Camp Winnarainbow for underprivileged kids (something like the Little Lebowski Urban Achievers, only a whole lot cooler).
We don't know about you, but in a world full of self-absorbed bozos, we take real comfort in Wavy Gravy's holy foolishness.
Mr. Gravy, forever may your freak flag wavy.
Abiding Lessons
With his lifelong dedication to improving the world through clownish activism, Wavy Gravy shows us there's more to abiding than lying around like a bunch of deadbeats.
· Be a clown, be clown, be a clown.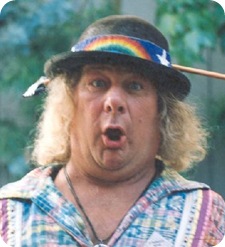 Not the kind of clown that creeps out little kids, but the kindly jester/trickster/fool who pokes holes in our uptight, overly serious egos so that our deeper humanity can flow through.
· Roll with the existential banana peels that slip you up.
Life can be really absurd sometimes, but getting all nihilistic about it won't help. The absurd's-eye-view won't make sense of it all, but it does help us roll through the whole durned human comedy with a smile on our faces. As Wavy Gravy put it: "Keep your sense of humor, my friend; if you don't have a sense of humor it just isn't funny anymore."
· Taking it easy also means taking care of basic human needs.
Slowing down and taking it easy helps you recognize the basic human needs that affect all of us, man. Why, if enough of us abide together and let the Dude Way work through us to meet those needs…we might just catch another glimpse of the heaven on earth that's already here all around us.
[Editorial We's note: The Abide Guide: Living Like Lebowski, a Dudeist Self-Help book, is available for preorder here.]
---
[1] That's how satirist Paul Krassner describes his friend Wavy Gravy.