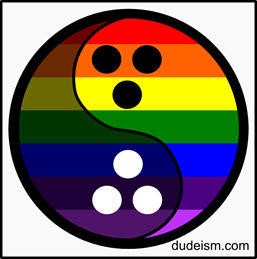 By: Rev Gary M Silvia
On June 26, 2015 the Supreme Court of the United States passed down a decision making same sex marriage a legal right for all people in the US. We here at Dudeism applaud the SCOTUS in its wisdom guaranteeing such a fundamental right to all persons, the right to form a marriage and family. While the Dude may not have been into the whole marriage scene for himself, surely he would not deny it to anyone who wants to form a marriage with their special friend. Dudeism supports any union between legal adults, regardless of gender or sexual identity. We see the human urge to form pair bonds that are based on love and affection as a natural and zesty affair, and should not be impeded by any law.
In a 5-4 decision the SCOTUS made same sex marriage the law of the land in the United Sates. As Dudeists we see this as a step forward in the evolution of our society. An evolution of tolerance and compassion, understanding and freedom. Dudeism encourages people to embrace who they really are, to be true to themselves and not put on phony appearances for the sake of "fitting in." Denying someone the right to marry the person they chose in order to make them "fit in" was not in any sense, abiding.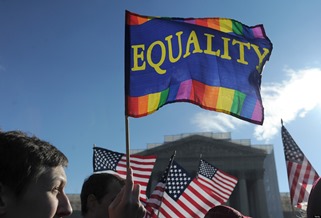 Some may ask, "why would the Dude care, does it look like he's married?" Yes the Dude in The Big Lebowski eschewed the idea of being married for himself, but that in no way says he is against the concept. As Dudeists we have to look deeper to find a Dudeist understanding of marriage. When we look at how the Dude called Maude his "special lady friend" it is clear that he had affection for her, and he considered her his friend. That is what any good marriage should be based on, friendship, and the Dude loves friendship. Sometimes it may be that two friends want to make a commitment to each other, to form a family unit of their own. There are many reasons that are abiding and natural that two people would want to form such a partnership, but as long as it is mindful and in a sense abiding, then Dudeism approves.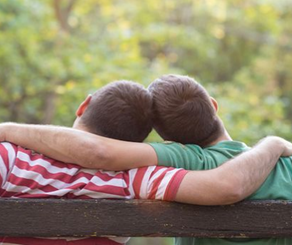 One important point of Dudeism is freedom from the oppressive ideas and expectations of others and so even though the Dude is not for marriage himself, he is in no way against it for others. The people who would deny gays the right to marry do so on arguments that amount to "this is the way it's always been" or "marriage is defined as a union between a man and a woman" or "the purpose of marriage is to reproduce." None of these are universally true nor written into the constitution. When bloggers such as Matt Walsh write lengthy screeds yammering about such supposedly self-evident truths they are really just saying "I just don't like the idea and you shouldn't either."
As Dudeist priests, we not only support same sex marriage, but we are also perfectly suited to perform those marriages. One of the good works that Dudeism can provide in this modern secular era is to be available to officiate weddings for those seeking to get married. We support our Dudeist priests who preside over all legal and rational marriages. The only causes a Dudeist has for not performing a wedding for anyone is if that marriage is harmful or not earnestly sought by both parties. Such as where children are involved, if someone cannot enter into a legal contract, they can't get married. Or if one of the people entering into the marriage is being coerced or forced to marry, not cool man. Our Dudeist priests should feel free to perform any wedding that is based in true love and affection between legal adults.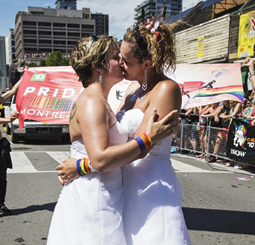 People want to marry each other sometimes, and that's cool, marriage plays a part in keeping this whole derned human comedy going. In the human experience many seek to find a partner in love and life, someone they cherish enough to commit to for the long haul. Human beings are like that, they sometimes want to have a special friend on this journey through life. It is not at all required in Dudeism that people get married, but it is also not at all required that they have to meet any gender standards to get married either. Dudeism is as blind to gender as it is honest about it. We know that to be male is merely a function of having a pair of testicles, and we are not afraid to say vagina. When sex, or marriage, are about true love and affection that is abiding. No law should prevent that, and now in the US that is finally the case.
Abiding is not about tolerating, it is about accepting things as they are. More than being tolerant, Dudeism has always accepted people as who they are. This is not to say Dudeism doesn't exclude some behaviors from its ranks, such as murder, needlessly causing harm to others, bigotry, and just plain being an asshole. Those are not Dudely abiding behaviors, being an intolerant jerk is not what Dudeism is about. Dudeism and abiding are rooted in empathy, not bigotry and hate. However, when sex and marriage come from a place of abiding affection between consenting adults, then Dudeism can abide by that.