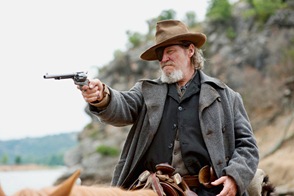 By Rev. Crash Winfield
It's been quite a year for Jeff Bridges – aside from winning an Oscar for Crazy Heart, he also starred in a sequel to Tron and the Coen Brothers' latest, True Grit. One can't imagine where it goes from here — he fixes the cable? Many justifiably contend that his role as Rooster Cogburn in the latter film may well be his finest performance to date. Just as the 1969 True Grit cemented the status of The Duke, the new version of the film will prompt people to similarly sanctify the Dude.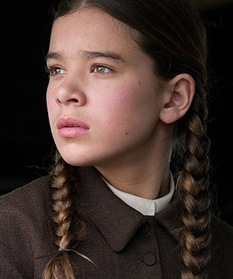 Yet all the attention afforded Bridges and his blindingly talented young co-star Hailee Steinfeld has obscured what may well be the most remarkable thing about this film: This is the first Coen Brothers film which seems designed to appeal to a wide audience. Ever. Aside from Intolerable Cruelty, of course–but that was a joint effort with others, and still a bit too peculiar to play in Peoria. Yet despite a few signature flourishes of weirdness, there's nothing in True Grit inaccessible to even the most mainstream moviegoing mope.
What's more, there doesn't seem to be a trace of that sine qua non of the Coenesque: the sense that the movie may be about something much more than what it appears to be–in other words, that it is actually a commentary on the here and now (or alternatively, the forever and always), reflected through the prism of the there and then. For instance, our beloved Big Lebowski may have been the greatest (and most prescient) statement ever made about where the United States (and by extension,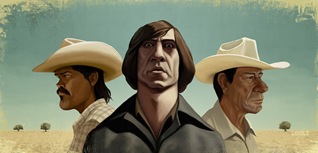 the world) found itself in the years leading up to millennial catastrophe. The brothers' acclaimed "No Country For Old Men" bookended Lebowski, commenting on the post-9/11 desertscape the same country faced afterward. To varying degrees, just about every other film they've crafted can be argued to have acted as a subtle milestone/compass, telling us just how far down the trail the US could find itself in the whole durn human comedy. Part, anyway. Yet they always did so in a way that could easily be overlooked, should one care to do so.
At least to this reviewer, there didn't seem to be any manifesto behind the curtain in True Grit. That is, until a chat with his Western-loving mom raised some unread flags.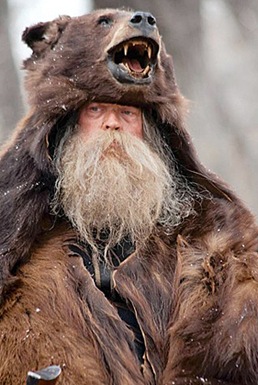 Afterward, over Mexican fare I had expressed my confusion over who the man in the bearskin was and why he was in the film. I figured he was a cognate of The Jesus in TBL, a bit of oddball levity meant to break up the second act a bit. But Mama, who was raised on the genre from a young age, pointed out that many westerns were concerned with speculators — people who traveled the open plains in search of harebrained money-making schemes. I realized then that she was right: the goofy medicine man was merely a Deepak Chopra of the Chaparral. The movie was in fact peppered with people like that, if generally more presentable. Hopeful that she saw through the gossamer veil, I pressed her for the hidden theme of the movie, but her answer was merely "crime doesn't pay."
At first, I scoffed (not to her face, of course). All Coen Brothers films are about that, to some degree, but that's only a linoleum veneer covering a vast foundation of implication.
Soon, however, I saw what she meant, or perhaps what I hope she meant in order that I could lend my own theory the weight of her experience rather than just my own idle speculation. The Coens had done it again! Though no reviewer to my knowledge has acknowledged this, it seems that they've taken a shot across the bow at the most recent American threat, that of an economic catastrophe precipitated by wild west-style villainy: Snake oil salesmen and prairie-mad schemes venturing capitally out into unchartered territory.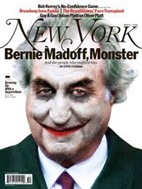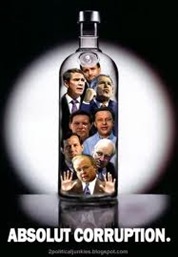 This of course explains the fact that the hero of the film, a fourteen year old girl with a strict Protestant ethos, is inspiring not for just her backbone, but her skills in amateur law and accountancy.
When was the last time an audience cheered a hero for his or her facility with ledgers, balances and Latin? Just as they did with laziness in The Big Lebowski, the Coens have brought to light yet another unlikely type of heroism — that of those who can protect the common man against the red-ink rigamarole of speculator scofflaws who intend to defraud both investors and regulators with their holey writs. Mattie's mission wasn't just to avenge the wrongful death of her father, but to invoke the wrath of God (via his disguised one-eyed avatar, Rooster) upon what was in some ways an American Sodom, the now-glorified open country of 19th-century America. And, by extension, of course, our current Gomorrah Sachs and Bear-headed Stearns. Doesn't anyone give a shit about the rules? It's hard to give a shit in a province where there don't appear to be any.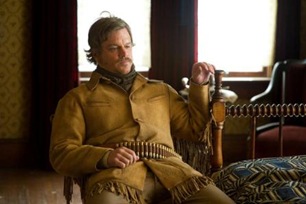 Given the yawning gap between a bunch of horse-riding gunslingers and bull-baiting bondslingers, it's easy to forget that theft is a sin whether it travels a straight or convoluted path. And in a territory where there are few regulators to keep watch, we have to depend on often comically and unromantically upright citizens to protect us. Dizzy yet upstanding Rooster, plain and unsentimental Mattie, and dorky and determined LeBoeuf may not seem like obvious saviors at first, but, as in The Big Lebowski, we are forced again to implore, "what's a hee-ro?" In a country where the President of the United States is chided by an overpopular but undereducated frontierswoman for being a "law professor" instead of a cowboy, we should all have cause to fear.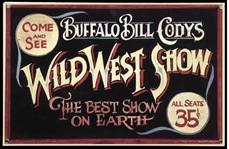 What True Grit has done for the Western is ironic in the best of the Coen tradition — it has helped take some of the brio out of one of America's most cherished myths, that the Wild West was a place in which honor habitually triumphed. It reminds us that we should not labor under the same fiction by championing an under-regulated economic system.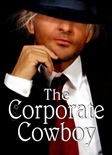 Crime in fact paid pretty well back in the Wild West. It must not be allowed to provide the same return on investment which it has over the last decade.
Whereas The Big Lebowski concerned the value of not getting involved and going with the flow, the Coen Brothers' version of True Grit plays yang to its yin. If a fourteen year old girl can use logic and the law to avoid being fleeced by corrupt human paraquat, then we can take that hill with her and pick them off from high ground.