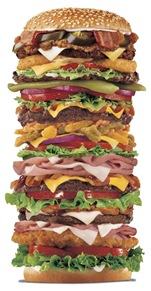 Dear Dudely,
I am very interested in becoming a Brother Shamus but I was wondering if I'd have to give up eating meat. I noticed that the third precept of the Shamus Bros is to "intend to do no harm."
Is it alright if I eat meat that's ethically raised (free range, organic, no meds or steroids, etc) or do I have to totally go vegan? What if I love meat and am not really into the whole eastern monastic diet thing you've got going on? All my friends who have recently joined your church say that the Dude was abstaining from meat when they went to the In And Out Burger on Camrose.  Say it ain't so!
Thank you for prayerfully considering my query, Your Holiness.
Your humble servant,
Pious Omnivore on the Prairie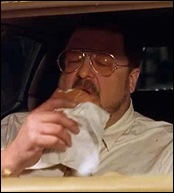 Dear Pious Omnivore,
That whole "do no harm" thing–people have been using that as a moral law since the dawn of civilization, but no one can agree on what it means. It's stupefyin'.
Certainly, civilization needed the concept to even get started–before the rise of cities some 4,000+ years ago murder rates were twenty times higher than they are today. You can imagine how hard it would have been to put together a bowling tournament in those days.
It took a long time to get to where we are now. Moses didn't really start the beautiful tradition, as some claim: Right after he came down off Mt. Sinai with the tablets that told the early Hebrews "Thou shalt not kill," guess what happened? Old Mo found them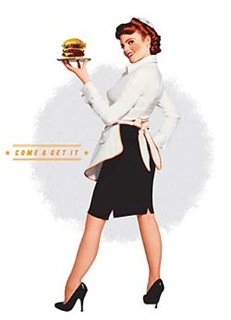 worshipping a golden calf (instead of Jehovah) and slaughtered 3,000 of them, chop chop. Fallible, fascist, hypocrite, or human paraquat? You decide.
Even today, while laws against killing exist in most cultures, what they always mean is "don't kill your own people." Anyone else is generally fair game under the right circumstances, notably war. On the other hand, you can also kill your own people if they do bad things (capital punishment), if they want to be other people (civil war) or if they run away from you when you're pointing a gun at them (the police).
Since this whole "do no harm" thing has holes big enough to drive a Gran Torino through, our poor animal friends don't have much of a paw left to stand on. Even if some of them do have papers.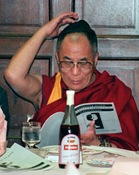 However, some Eastern traditions have been a lot more cool about respecting animals than those of us in the West. Parts, anyway: In Hinduism and Buddhism only the religious elite are compelled to be vegetarian: Since they're closer to heaven their flatulence needs to smell more saintly. Nevertheless, the majority of Buddhist monks in Asia get around this with the excuse that they aren't the ones doing the killing. 3,000 years of beautiful tradition–from Moses to The Dalai Lama. Nothing changes.
So what does Dudeism have to say about this? Can we do the old In-N-Out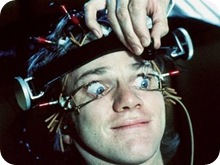 without needing to be sent to a re-education program? Should we subsist on a steady diet of White Russians (the beverage, not the population) instead?
Certainly, when it comes to vegetarians, we're all, on a personal level, really enormous fans. There's very little you can say to support the carnivore side of the argument other than "Meat good. Yum. Me like meat." In a perfect world, we'd all be vegetarians. But then, in a perfect world, we'd all get to spend our lives driving around, bowling, and enjoying the occasional acid flashback too.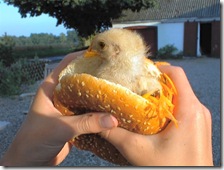 Yet as the very Dudeish John Lennon optimistically enthused: "It's getting better all the time." Thus, in the same way as we hold the Dude up as a variety of ideal, we should also hold up the value of vegetarianism. Those with the fortitude and strength of character to be truly dude-like, as well as eschewing meat, are deserving of our fondest respect.
Moreover, we could certainly suggest that doing without meat is implicitly Dudeish, because it implies that one is not driven by impulsive desires and can find equal or greater enjoyment in the simpler (and cheaper!) things in life.
Nevertheless, since Dudeism is generally anti-idealistic, we must not be too hasty in judging those who sink their Nihilistic teeth into "pigs in blankets" now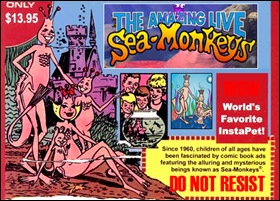 and again. We do greater damage by being intolerant of such behavior than we do by being public dicks about it.
Meat isn't going to go away anytime soon. So if you really want to help our furry-n-feathered friends, start with your own dinner table and teach by example (and good cooking). Also, you can help invent better-tasting meat substitutes or promote the consumption of stupider animals like fish, insects and sea monkeys. Finally, if you must eat cute-n-clever meat, try and make sure it was happy before they killed that poor moo-man.
As for whether the Dude himself was a vegetarian: some mystical questions are better left unsolved. Did the Dude wear boxers or briefs? Did the Dude prefer Mary Ann or Ginger? Did the Dude end up becoming a deadbeat dad or a Mr. Mom?
Millennia from now, many learned men will dispute this.
Abidingly,
The Dudely Lama
Note: In-N-Out Burger also features a veggie burger. Sadly, all they do is take out the beef. Also known as a "wish" burger, 'cause you wish you had some meat.