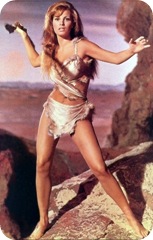 By Rev. Dwayne Eutsey
First, we learned that primitive Dudes may have fired up massive communal jays in a long-ago Stoner Age. Now it seems that they may also have indulged in primeval porno during what could be called the Boner Age.
According to a recent article by the Associated Press:
"A 35,000-year-old ivory carving of a busty woman found in a German cave was unveiled Wednesday by archaeologists who believe it is the oldest known sculpture of the human form. The carving found in six fragments in Germany's Hohle Fels cave depicts a woman with a swollen belly, wide-set thighs and large, protruding breasts."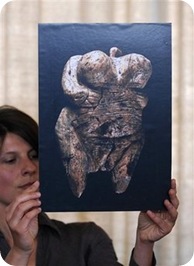 It remains to be seen whether the female figurine was vaginal art created by one of Maude Lebowski's early feminist cavesisters or prehistoric porn produced by a Neanderthal ancestor of Jackie Treehorn.
Nicholas Conrad of the University of Tuebingen, whose archeological team discovered the carving last fall, believes it may have been a fertility symbol Dudes used to help their lady friends conceive. Paul Mellars at the University of Cambridge, on the other hand , seems to be of the Logjammin' school of archeology.
"These people were obsessed with sex," Mellars opines.
There doesn't appear to be enough evidence yet to know whether the cave coitus resulting from the Paleolithic sex prop was a zesty, natural enterprise or compulsive and without joy.
One thing's for sure, though. No matter how much our dudely forebears' technology may have permitted them to do very exciting things in interactive erotic ivory carving, most of them probably still jerked off manually.