The real-life dude that "The Dude" of the Big Lebowski was based on? Well, this Great Dude in History sure is a no-brainer.
Of course, while most film adaptations of real folks come off larger on the screen than in real life, that's not true in this case. Jeffrey Dowd in larger than life in just about every way — he's a large man with a large personality with big ideas, a generous appetite, and a very copious curly hairdo. Yet most of all, the man has a boundless love for the principles of freedom. And that's perhaps the most important thing Jeffrey Lebowski inherited from Jeff Dowd — inherited a lust for liberty like a trust-fund full of D-N-Fuckin'-A.
There are plenty of additional overlaps: "The Dude" was Dowd's nickname since he was a kid. And the Seattle Seven? That really was Jeff Dowd. And six other guys. Furthermore, Dowd admits to drinking white russians as well, but, uh, far from exclusively. He didn't write The Port Huron statement (or its compromised second draft), but he is writing a book, and it's sure to contain several colorful statements. He's also a pretty good bowler.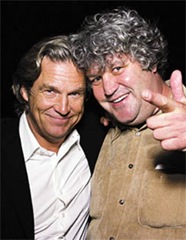 Make no mistake, however. The Dowd and The Dude are hardly the same feller. Though Dowd admits he's had easygoing periods in his life, he's nowhere near as lackadaisical as Lebowski. In fact, he's pretty damn near unstoppable once you get him around good friends, a couple oat sodas and a bowling ball. Or a good movie idea, for that matter – he's been quite the achiever in Hollywood as a producer and what-have-you. Nevertheless, untroubled laziness is merely one aspect of The Dude that we admire, only one of several which defines Dudeness in all its ramifications and permutations and dudefinitions.
It's easy to only get caught up in the Dude's "Taking it Easy." But sometimes you gotta fight for the right to party. That's what Dudes like Dowd are here for: They're cursing crusaders for freedom and funloving in the face of all the petty frustrations of the world. The Dionysian Dude. The Damn the Torpedoes Dude. The Eat Drink and Be Merry for Tomorrow We Die Dude.
That's the way of The Dowd: From standing up for Our Basic Freedoms as a student in Seattle to playing a key part in getting the Coen Brothers their first uncommon film made (Blood Simple), to teaming up with Bill "Spaceman" Lee in the quest for liberty and against the fucking fascists, this Great Dude's life has been about zigging when most others might opt for the common zag. Sounds exhausting, we know. But it's an ethos, and a purty good one, at that. Good enough to help inspire one of the greatest movies of all time.
NEWS FLASH: it's Jeffrey Dowd's birthday right about now (November 20th), so why not go visit his site: www.jeffdowd.com and mail a birthday beer to the address listed there. Tell him Dudespaper.com made you do it.
ALSO: Jeff Dowd now has a great blog over at The Huffington Post. Take a look at this doozy of a first article.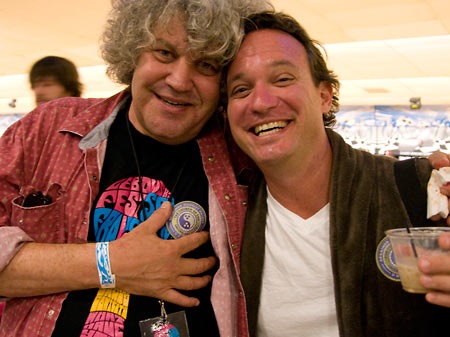 Jeff Dowd testing out an embroidered Dudeist Priest patch with
Dudeism's Oliver Benjamin at the San Francisco Lebowskifest, 2008