Dudeism has been a part of my life for a while now. After a few first-hand encounters with dudely intervention I decided to make it official and I received my ordination June 23, 2009. But, i never realized how central it had become to my life until recently…
They say you can tell a lot about person based on what they'd take from their house if it was on fire. Well, my abode was figuratively on fire and I had to split. Just enough time to grab the most important stuff…the dog, some clothes, and of course important papers.
When I had found refuge at a buddy's place and had a chance to go through what I grabbed I was surprised, not unpleasantly, and rather proud to find that although I had not grabbed my passport, birth certificate, or car title in my hasty departure, I had remembered to grab my ordination certificate and my sumi-e dudel of The Dude (see below) to hang over whatever couch i'd be sleeping on to watch over me and remind me to "take 'er easy"…even when, ESPECIALLY when, you're up a river of excrement without a means of propulsion. Oh, and my dog's papers (my dog has papers)…i grabbed those too.
O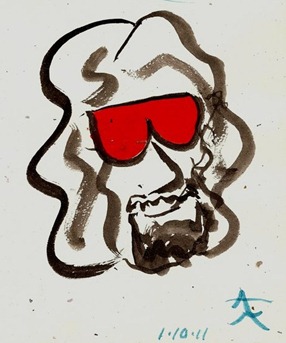 n another note, in memory of my mother, I'd like to share the last moment i spent with her with your dudeships, as it has significant dudely connections. In 2000 I went back to California to scatter her ashes.  got to the beach, walked out on the jetty, and upended the cardboard can (yeah, they gave her to me in a can, and it wasn't even Folgers…) and FUCK IF THOSE SANTA ANA WINDS WEREN'T BLOWING.  sigh…you know what happened next. You saw the movie.
So my mom lives on in me, not just in the way that all parents live on in their children, but also in the way Donnie lives on in The Dude.  every tear jerking moment was caught on film by Japanese tourists.
I sincerely believe, to the very bottom of my glass, that living La Vida Lebowski has validated, enriched, and infused meaning into all aspects of my life and the business of living it. The dude's message is clear to me: follow the lanes to enlightenment and make light your burdens. Just throw 'em down, say "fuck it", and then go bowling. 
So, these days, I take things easy. If you don't take it easy, you're gonna take it hard, and man, stress is a killer…so, you might as well take it easy. And i never apologize for not knowing what day of the week it is anymore, which is most days, because dudes don't need to split hairs over weekdays and weekends.
The Calm Psalm:
The Dude is my Captain; I shall not harsh my mellow.
He maketh me to lie down on persian rugs:
He bringeth new information to light.
He findeth my car:
He leadth me out of Malibu and into the bosom of my private residence.
Yea, though I have been made to bathe with a marmot, 
I will fear no nihilists:  For they are cowards.
Thy bathrobe and Thy jelly sandals; They soothe me.
Thou rolleth me a j in the presence of unchecked aggressions;
Thou refilleth my drink; My caucasian runneth over.
Surely I shall take the ups with downs, the strikes with the gutters, all the rest of my days
And I will abide in the Abode of the Dude indefinitely.
Obligingly Abiding,
Rev. Amanda Macias