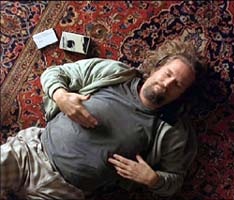 By Rev. Tim Gertsch
So you always hear the fascists and carpet-pissers of the world moanin' about those of us who enjoy "takin' er easy," complaining we don't work hard enough, we're not good for nothin', etc, etc… Well, that's just like… their opinion man. However, I've got proof that laziness can in fact profit these uptight fellers. Let me explain how.
Recently, at my place of employment, I had come to realize that I was working WAAAY too hard, and not gettin' much back for it. In a nutshell, I make commercials for clients, and then post them on a web portal that I also create, and then I would send them a copy on a CD, with a little personalized letter and whatnot. What a load of work man–time consuming, and irritating. So my dudely nature starts to take over about this time, and I'm just not feelin' all the cutting and pasting, and waiting for CDs to burn, and then wrapping them up, and performing the tedious ten-step process to gettin' these things in the mail. It's just not for me.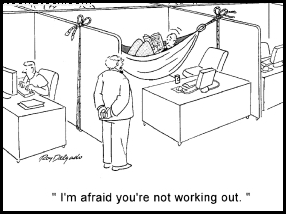 About this time, my dudely brain hits the jackpot. Technology is a fantastic aid to the Dudeist way of life–just take for instance this Dudespaper itself! I don't even have to walk out to the curb to get my paper. So I pose the idea to myself, "What if you don't send these things out man?" Most of them were gettin' lost in the mail or showin' up broke anyway, so why waste the postage? Right? Ok, so here's where it gets good.
I transfer a lot of large files back and forth between myself and another member of my band, using a file transfer website, a file sharing site rather. Well, that allows me to store huge documents online, and then simply provide the intended recipient with a link to click on and download their stuff. Hail the internet age!! In one fell swoop, I had discovered a way to eliminate all that tedious, pointless work!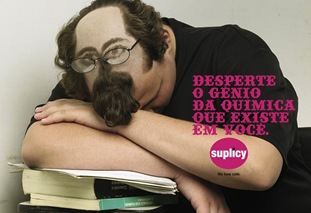 What does all this have to do with corporate fascists? Well my friends, they didn't want to see it at first, so I had to give em the ol' "SHUT THE FUCK UP DONNY!!" and let 'em know why they needed to take my advice.
Paper, postage, time and the various supplies used in this former system, cost money. Not a ton of money individually, but in large numbers, over long periods of time, it all starts to add up. I crunched a few numbers, and then let the suits upstairs know that if they went with my system, they'd be saving anywhere from $8,000 to $10,000 a year. Hey-ho whaddya know, the Big LeBosski says to pick any rug in the house as a replacement.
So the next time your less than gracious employer pulls some fascist move on ya, flash this article his face, and then tell em to climb off your back, cuz you're tryin' to come up with the idea that'll save him ten grand!
Keep on abidin' fellow Dudeists!
[Editorial We's Note: For those innarested, here are a few good free file sharing/storage providers: Mediafire, Letitbit.net, DropBox.com]