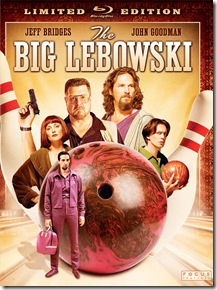 Some of you may have been lucky to see The Big Lebowski in high definition already. There's a world of difference between seeing the sacred source in all its detailed glory and watching it in standard def. In high def, all sorts of new shit comes to light — from the titles of the books in the Dude's bungalow, to Julianne Moore's flesh colored underpants, to the expert weave of the rug. Watching the movie in high def is like wiping the half and half off your sunglasses and seeing the Dude's world as it was meant to be beheld.
The friendly folks over at Universal NBC have just made us privy to the new disk! The Big Lebowski on Blu-Ray! Now anyone can enjoy the Greatest Story Ever Blathered. And in 1080p too. Now you die with a smile on your face without feelin' like the old technology gypped you. The disk comes with a 28-page hardcover companion book as well so that makes it an even more reasonably priced percepticle.
Check out the press release which outlines all the ins and outs and special features and what have yous…
EXPERIENCE THE COEN BROTHERS' CULTURAL PHENOMENON
STARRING JEFF BRIDGES – NOW ON BLU-RAY™ FOR THE FIRST TIME EVER!
THE BIG LEBOWSKI LIMITED EDITION BLU-RAY™
August 16, 2011
"The Most Worshipped Comedy of Its Generation" – Rolling Stone

Own the Limited Edition Blu-ray™ Featuring All-New Bonus Features, a Digital Copy of the Film and Collectible Hardcover Book Packaging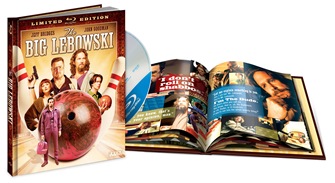 Universal City, May 24, 2011 – Bowling, nihilists, a stolen rug and the occasional acid flashback have never been funnier when one of the most popular cult classics in history, The Big Lebowski Limited Edition, debuts on Blu-ray™ August 16, 2011 from Universal Studios Home Entertainment. From the Oscar®-winning Coen Brothers
(True Grit, Fargo) and starring Academy Award® winner Jeff Bridges (True Grit, Crazy Heart), this acclaimed comedy has been newly remastered in high definition to provide longtime fans and first-time viewers alike with the ultimate Lebowski experience.
Available for a limited time with an all-new 28-page companion book featuring an exclusive interview with Jeff Dowd – the real-life inspiration for The Dude – Jeff Bridges' personal, on-set photography, a film timeline, trivia and much more, The Big Lebowski Limited Edition Blu-ray™ is a must-own addition to any collection. In addition to all-new features exclusive to the Blu-ray™ release, The Big Lebowski Limited Edition Blu-ray™ also offers a digital copy of the film that can be viewed anywhere at any time on the consumers' choice of devices including laptops, tablets, smartphones as well as Internet-connected TVs and set-top boxes.
"Since its creation by Ethan and Joel Coen in 1998, The Big Lebowski has transformed from a fan favorite into one of Hollywood's most celebrated cultural phenomenons," said Craig Kornblau, President of Universal Studios Home Entertainment. "This spectacular new Limited Edition Blu-ray™ combines the most extensive behind-the-scenes materials to date with the latest Blu-ray™ technology, giving devoted fans and newcomers alike a chance to experience the brilliant all-star cast, outrageous storyline and unforgettable quotes like never before."
Its now iconic characters and instantly recognizable dialogue have made The Big Lebowski "the number-one cult film of all time," according to The Boston Globe. Since its release, the Coen Brothers' affectionately addled riff on film noir has snowballed in popularity, becoming "an undeniable pop-cult force" and even, for many, "a way of life," in the words of the Los Angeles Times. "A masterpiece of anti-storytelling" according to Entertainment Weekly, The Big Lebowski has become a cultural touchstone for fans around the world.
Starring Bridges as the film's delightfully unlikely hero, "The Dude," the hilariously twisted comedy thriller also features unforgettable performances by an all-star cast including Golden Globe® winner John Goodman ("Roseanne"), four-time Oscar® nominee Julianne Moore (The Kids are Alright), Golden Globe® winner
Steve Buscemi ("Boardwalk Empire"), Oscar® winner Phillip Seymour Hoffman (Doubt) and Golden Globe® nominee John Turturro (O Brother, Where Art Thou?).
BLU-RAYTM EXCLUSIVE BONUS FEATURES:
· U-CONTROL: Universal's exclusive feature that lets the viewer access bonus materials without leaving the movie!
o Scene Companion: Watch cast and crew interviews, behind the scenes footage and more during key scenes with this picture-in-picture companion.
o Mark it Dude: This onscreen counter really ties the film together. Keep track of all the "F-Bombs," "Dudes," and "Dude-isms" in the film with this ultimate fan guide.
o The Music of The Big Lebowski: Instantly identify the songs heard while watching the film, create a custom playlist of your favorites and even purchase them from iTunes®!
· WORTHY ADVERSARIES: WHAT'S MY LINE TRIVIA: Test your Lebowski knowledge by finishing lines of dialogue during the film. Play as Walter or The Dude or in two-player mode against friends.
· BD-LIVETM:  Access the BD-Live™ Center through your Internet-connected player to watch the latest trailers and more.
· pocket BLU™:  The groundbreaking pocket BLU™ app uses iPhone®, iPod® touch, Android™, PC and Macintosh to work seamlessly with a network-connected Blu-ray™ player.  Also available on the iPad™, owners can enjoy a new, enhanced edition of pocket BLU™ made especially to take advantage of the tablet's larger screen and high resolution display. Consumers will be able to browse through a library of Blu-ray™ content and watch entertaining extras on-the-go in a way that's bigger and better than ever before.  pocket BLU™ offers advanced features such as:
o Advanced Remote Control:  A sleek, elegant new way to operate your Blu-ray™ player. Users can navigate through menus, playback and BD-Live™ functions with ease.
o Video Timeline:  Users can easily bring up the video timeline, allowing them to instantly access any point in the film.
o Mobile-To-Go:  Users can unlock a selection of bonus content with their Blu-ray™ discs to save to their device or to stream from anywhere there is a Wi-Fi network, enabling them to enjoy content on the go, anytime, anywhere.
o Browse Titles:  Users will have access to a complete list of pocket BLU™-enabled titles available and coming to Blu-ray™ Hi-Def.  They can view free previews and see what additional content is available to unlock on their device.
o Keyboard:  Entering data is fast and easy with your device's intuitive keyboard.
· uHEAR™:  Never miss another line of dialogue with this innovative feature that instantly skips back a few seconds on your Blu-ray™ disc and turns on the subtitles to highlight what you missed.
ADDITIONAL BONUS FEATURES:
· JEFF BRIDGES PHOTO BOOK: For more than 30 years, Jeff Bridges has been snapping pictures on movie sets. The accomplished photographer presents exclusive shots taken on the set of The Big Lebowski providing personal commentary on each photo.
· THE DUDE'S LIFE: Jeff Bridges, John Goodman, Julianne Moore, Steve Buscemi and John Turturro take a look back at their performances and their delivery of the Coen Brothers' dialogue that became classic movie lines.
· THE DUDE ABIDES: THE BIG LEBOWSKI TEN YEARS LATER: A freewheeling conversation with the cast about the film's decade-long reign as a cult classic, including a discussion about what ever happened to the "little Lebowski" that the Dude and Maude made that fateful night!
· THE LEBOWSKI FEST: AN ACHIEVER'S STORY: An in-depth look at the popular Lebowski Festival, formed by the legion of fans in honor of the film.
· FLYING CARPETS & BOWLING PIN DREAMS: THE DREAM SEQUENCES OF
THE DUDE: From aerial flights over Los Angeles with his bowling ball chasing Maude on a flying carpet, to the large scale "Busby Berkley" dance sequences as The Dude goes flying through the legs of all the bowling pin headed dancers, this piece examines how these "ahead of their time" scenes were constructed.
· THE MAKING OF THE BIG LEBOWSKI: A behind the scenes look featuring interviews with the Coen Brothers.
· PHOTO GALLERY: Slideshow of Jeff Bridges' on-set photography.
· INTERACTIVE MAP: Take a tour of the locations of The Big Lebowski, then and now.
· AN INTRODUCTION: Featuring Mortimer Young, a practitioner of "non-uptight" film preservation. His restoration of the famous "toe scene" will blow your mind.