By Rev.Govna G
If you're anything like me, fellow dudes, you appreciate kicking back with your beverage of choice and watching a good cartoon. If you think about it, you probably have a favorite cartoon show, movie, or character. Some of you may be afraid to admit that you watch cartoons, and that's cool, that's cool. My point is that animation is an art form to be appreciated, and has some pretty durned good lessons to impart as well. Cartoons provide us with so many great Dudeist characters that I could never list them all in one article, so I won't even try.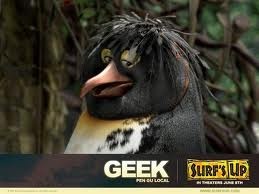 There is at least one animated movie that should be a must-watch for any self-respecting Dudeist, though. That movie is Sony Animation's Surf's Up. Most of the characters that move us through the plot are the flightless birds we know as penguins. But they are penguins in form only, and they give such a completely relatable and personified performance that the philosophy and subject matter of the movie shine through like the sun through the clouds of an island sunset.
Cody (voiced by Shia LaBeouf) is our main protagonist, who leaves his home in the frozen confines of Shiverpool to pursue a surfing competition. Along the way he meets a host of characters that represent a number of different philosophies on surfing and on life. Arguably the most important of these characters is the sage beach bum turned mentor (voiced by His Dudeness Jeff Bridges). Bridges character, Geek, becomes a guide for young Cody, teaching him to relinquish his un-Dude attitudes of impatience and frustration so that he can ultimately see the real point of surfing, and to a larger extent, life.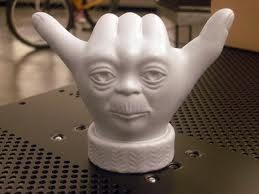 Under Geek's Zen-like tutelage Cody learns such lessons as how to participate in a surf competition without competing, how to train without training, and how to go with the grain and let the wave do the work. Eventually Cody approaches these lessons with an open mind, and learns that image means nothing. Winning and losing are just two sides of the same shiny coin.
What Cody must sooner or later understand is that to master surfing, he must first master himself. Even when it comes to his passion for surfing, it is his attitude towards the sport that will ultimately prove if he can succeed. And, really, isn't that what we're all blathering about on this page? If we approach something with the correct attitude, the correct mindset, then we are already ahead of the game. A limber mind is an open mind. Once this is understood we open ourselves up to countless possibilities. As Cody progresses he finds that he may not be able to control his circumstances, but he can control how he responds to them.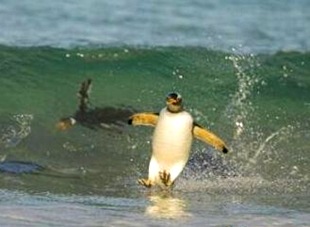 Soon, our hard-headed Penguin hero is able to say the G-rated equivalent of "ah, Fuck it" to the whole competition thing, and that's when he starts to focus on more important things like friendship, experience, and inner peace; all of which are infinitely more important than any trophy.
Another of Cody's Dude-like influences in the movie is his friend Chicken Joe (Jon Heder). This surfing chicken has already internalized many of the limber attitudes described above. His only weakness, if you can call it that, is that his mind may be a bit too limber. But, he proves to be a loyal friend, a true Dude, and a champion surfer with little to no effort at all. Joe is, indeed, the wu wei Chicken; non-doing everything with a sincerity that is both humorous and effective.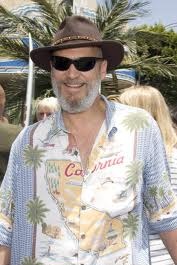 To get an idea of what happens to an un-limber mind, obsessed with image and competition, we need look no further than the movie's main antagonist Tank Evans (Diedrich Bader). The quintessential bully and all around un-Dude, Tank has long ago adopted an attitude of complete selfishness. Throughout the movie he maintains his image as a character that is completely unconcerned with inner growth or self-improvement. He makes it clear that he's only in it to feed his ego. Therefore, he naturally misses out on the real treasures that manifest in the unselfish seeker with the limber mind and attitude.
Reggie Belafonte (James Woods) is the character responsible for hosting the surf comp. A capitalist otter, Reggie shows similar character qualities to Malibu Logjammer Jackie Treehorn. Though highly concerned with production value, Reggie's similarities to Treehorn include treating surfers as objects, basking in his own sense of moneyed importance, and simply being concerned only with what's in it for him. He believes that he's the wave of the future, dude. Naturally, the only way to beat an un-Dude of such copious magnitude is simply not to play his game, man.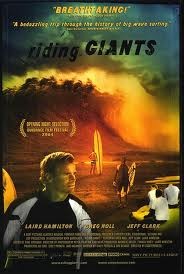 Surf's Up mimics many of the great surfing documentaries that represent the sport so well. It has a behind-the-scenes feel that feels less like a traditional animated movie, and more of a true-to-life flick that keeps the viewers attention with seamless cuts and interviews that provide plenty of laughs and insights.
The soundtrack is great and always appropriate to the scene and setting, featuring performers such as Green Day, Dirty Heads, Lauryn Hill, Pearl Jam, Incubus, Sugar Ray, and more. All of the voice actors are right on the money, and they all lend to the feeling of spontaneity that gives the movie so much of its charm.
Again and again throughout the movie, I am reminded of how well the sport of surfing exemplifies Dudeist philosophy. The topic has been covered so well here that I won't go into too much more detail on how the Surfer ethos embodies our highest ideals as Dudeists, but these themes are constantly presented throughout the movie.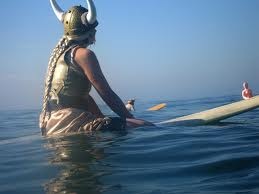 Ultimately, the movie asserts that if you're not having fun, then you're missing the point. We all get to choose how we ride our own wave. Is it to prove something to someone, or can we find that stillness that lets us be ourselves?
Now, I am not a surfer. But this brings me back to my point about cartoons. Like any great art form, animation gives us a fresh perspective on something that we may not be able to experience directly. I don't know about you, but I take comfort in that. So, fire up the DVD player, or what-have-you, and enjoy a truly Dudeist animated movie.