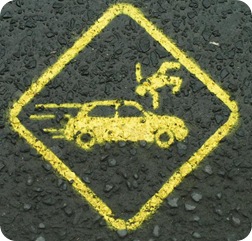 by Chalupa
Lebowski Podcast
When thinking of life lessons ideas to write about for this column, I've mainly tried to think of things that would be deep and thought provoking. Then I realized there are some good common sense lessons that can also be learned, similar to the Public Service Announcement variety. Did an adult ever tell you to look both ways before crossing the street?
I remember hearing that one over and over and over. I thought I was always aware of my surroundings, but it never really sunk home until one day when I was in the 2nd grade. I had a scooter, you know, one of those things that looked like a fancy skateboard with big wheel on each end and a pole with handlebars. Our driveway was slopped and I would use it to get up to speed before entering the street in front of our house. One day I was speeding down the driveway into the street when a vehicle happened to also be coming along. Luckily they saw my stupidity and stopped. My mom freaked out a little…well, actually a lot. I was very fortunate not to have ended up road kill on 6th street. I just wish I could have seen The Big Lebowski to know the real dangers of crossing the street without looking.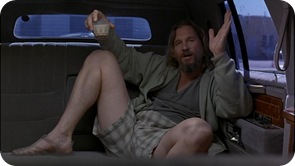 Remember when the Dude was getting that free ride home from Tony, Maude's limo driver? We learned about their respective rashes and discovered Da Fino had been following them around. After the Dude exits the limo, Tony mentions a car has been tailing them the whole way home. Without even looking, the Dude turns to study the Volkswagen when all of a sudden an unknown assailant grabs him by the neck and throws ol' Duder into the back of Mr. Lebowski's limo. The man didn't even have the tiniest bit of respect for the beverage in hand. Could this have been completely avoided if the Dude had just looked? Probably not, but he would have at least known it was coming.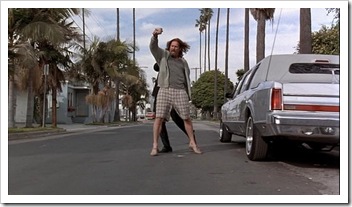 So as you're crossing the street in the future, or maybe just out traversing with a beverage, please look both ways. You never know what might be coming down the street or who might be gunning for you.