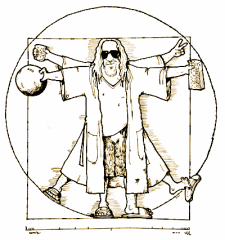 Want to win a free Dude Vinci Tee Shirt?
All you have to do is "LIKE" (click on the "like" button) our new Facebook page.
We're finally getting our act together and putting up an official Facebook page to go along with our official Facebook group. There's already a page with almost 20,000 fans, but the dude who started it hasn't been doing anything with it and won't give us moderation rights so we're asking people to come on over and join our new page.
We're going to give out a few free Dude Vinci tee shirts to a few people who "like" the page. We haven't figured out how many yet, but the more people that sign up, the more we're going to give out. That way, there's no harm in telling your friends.
It's super easy. All you have to do is go to the page and click on the "like" button next to the title. Of course, you have to be logged in to Facebook to do that.
Facebook is a different kind of environment than our official site, one that helps get the word out, even if it means selling our souls just a little bit. We're open to suggestions as to how to improve the page. For instance, there are tons of apps out there. Which are the best? Let us know in the comment section below or on the page.
At the moment it's a bit messy but we're going to get it polished and ready to roll in the big leagues soon.
Thankee!