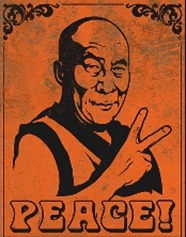 Hey Dudeism was recently poked fun of by Sam Mowe, the editor of Tricycle, a Buddhist magazine. We thought they'd dig our style. I guess Buddhists aren't as fun-loving a bunch of goofballs as we thought they were. Anyway, The Dudely Lama penned a long rebuttal in the comments section below the article. Feel free to chime in if you like, either here or in the Tricycle comments section
For some reason they're under the misapprehension that Dudeism is a form of Buddhism. Is this your homework Sammy? Mrs. Jamtoss would have given him a poor grade. As we've made clear, Dudeism falls into the Taoist tradition (the original uncompromised first draft).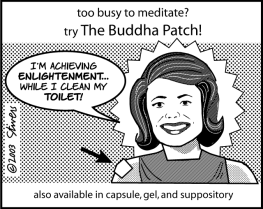 Perhaps it stands to reason that the people who don't get Dudeism would tend to be religious folks. In fairness, Mowe's piece isn't harsh at all. It just makes a literal connection that is not there. And perhaps we should take "silliness" as a compliment.
Here's a joke: A Buddhist and a Dudeist go to a hot dog vendor. The Buddhist says "Make me one with everything." And the Dudeist says, "Easy on the catchup. Extra relish."
Tricycle article here.