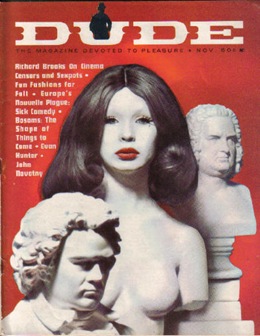 By Rev. Wendy, a.k.a The Dude a-Rides
I will start by saying I am very Dudeist in my lazy nature. I cannot be bothered to look up past Great Dudes to quote, civilizations to note the rise and fall of, nor feminists to look toward for a well-rounded vaginal point of view. I was asked to contribute a column featuring a female point of view on living the Dudeist Way, and well…this Dude abides.
You're a Lebowski, I'm a Lebowksi, that's terrific. But being a FEMALE Dude in our time and place is certainly not a much-celebrated position. We're bombarded by rug-pissers in the media every which way we roll: from models that look like they never hit an In-N-Out Burger in their lives to Jackie Treehorn-type publications to…well, I'm rambling. Things are most certainly fucked here, Dude.
But some of us manage to singlehandedly raise healthy happy children, work, get higher educations and keep our rugs piss-free, all the while embracing a Dudeist ethos AND having love for our bodies and souls that most certainly have been affected by the sands of time. This can be difficult, but help is chopperin' in.
To start off, here are a few strikes to help my fellow female Dudes live without emotional problems (beyond Pacifism):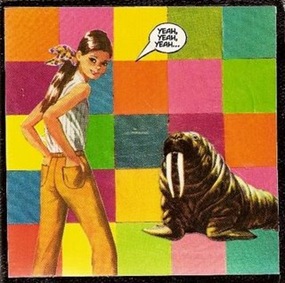 1) I am The Walrus
Often as female Dudes, we're attracted to the male Dudes out there because they embody and embrace takin' it easy in a way that is not socially acceptable for most lady friends (let alone Feminists). They draw us in with their casual ways, charm us with a little of this, a little of that, and before we know what's happened, we're giving birth to little achievers of our own, and going to work the next week to get enough money to feed the monkey—meanwhile our Jeffreys are lying on the rug with their walkmans blaring loud enough to drown out the sound of the children crashing the goddamn planes into the mountain.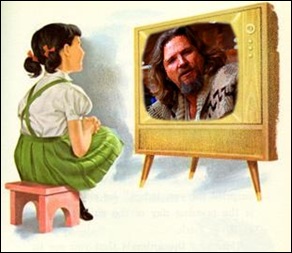 As Maude Lebowski put it, there's a male myth about feminists that we hate sex. Another is that we don't want children, or husbands. Some female Dudes really dig the whole Mothering style. Far out. But if the scenario mentioned above plays out, and you end up being the one to pay Marty each month, well…eventually the resentment will build, and it will become too difficult not to throw a bowling ball at your Dude's ever-expanding gut. You have to ask yourself: do you want to HAVE little Lebowskis, or just marry one? Because if you want to have your Caucasian and drink it too…..then choose your natural, zesty enterprises wisely. There is an unspoken message here: make sure your Dude of choice isn't just helping you concieve. Look for the person who will benefit…and…if it's not you, well, these jelly sandals were made for walkin'.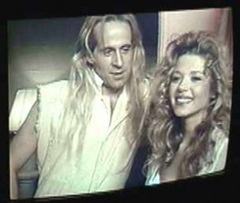 2) Logjammin'
This story really IS ludicrous. We hold out for romance, shared values, emotional connection, what-have-you. That's cool, Dude, but we don't have to cut off our proverbial Johnsons while we wait. If you're the "lady friend" type, then by all means: enjoy your coitus. If you're more of a "special lady" type, then waiting for league play can be frustrating, man. My advice is to visit your local hardware store and buy a "personal massage" showerhead. No shit, ladies, these were made by good and thorough men (or, perhaps more likely, women). Am i wrong?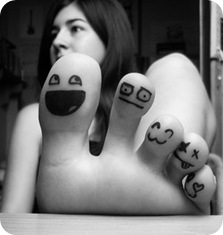 3) Cleft Assholes
Sooner or later, a Dude has to face the fact that most of the people she knows are goddamned morons. This can be daunting, a real marmot in your bathtub. But you've got to brush those ashes off your sweater and keep on bowling. Don't blow on anyone's toes. Just put on your shades and say "fuck it." Do what you have to do: go out looking for jobs dressed anyway you need to, on weekdays, and even on Shabbos, if need be. Not all of us have sugardaddies with vanity problems to live off of. Be the bagwoman, be the driver, shit, be the amateur, if you have to. But don't let them call you Mrs. Lebowski. YOU are a Dude, and that's what they call you. And when the Walters of the world flash their pieces on the lanes, just ask yourself: "What would Dude do?"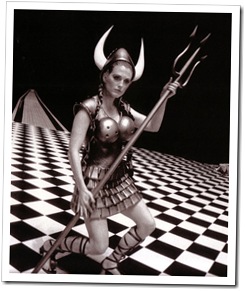 4) Strong Women Also Cry
I don't want to be a hard-on about this, but ultimately it's your perception as to whether you are fulfilling your true female Dude potential or not. And environment is key. Fuckin' reactionaries everywhere these days, especially in major cities. Now, this is just like, you know…uh, my opinion, man, but I think it's easier to deal with the strikes and gutters, ins and outs, and all the strands in your head when surrounded by, or at least in company of, a FEW Sister Shamuses.
5) Bones or Clams or Whatever You Call Them
If you are a Dudeist, and are trying to be someone the square community does give a shit about, then chances are you're likely spilling your beverage all over yourself. Sure, it's tempting to buy a duplex near the In-N-Out Burger on Camrose, even if you could live  a more simple life in a crappy one-room bungalow, westward the wagons style. That is not some Eastern thing. Far from it. All the boxes are made of ticky tacky, man, and uh…well…you know what I'm trying to say. How many bones, or clams do you really need? Once the plan gets too complex, everything can go wrong. If you aren't careful,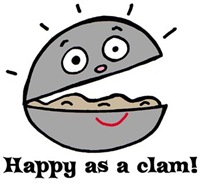 they're gonna kill that poor woman, and that woman is you. Your life is in your hands, Dude.
Well, I guess we can close the file on that one, for now.
Abiding from the bosom of the Pacific Ocean, which I love so well,
Rev. Wendy Nixon