By Rev. Erik Gamlem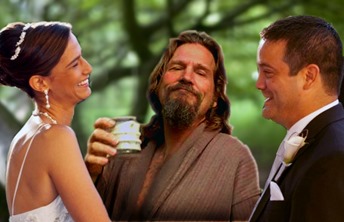 When I became a minister of Dudeism back in October of 2009 my main goal was to be able to bask in all the glories being an ordained minister of an organized faith allows. I loved the idea that I could could legally counsel people, marry them, and if I wasn't so darn willing to take it easy, have a congregation. I didn't know then that Dudeism would become a philosophy I would come to hold as a mantra and try to abide by on a daily basis. I just figured it would be fun to preside over marriage ceremonies for couples who also live outside the lines of what the man often expects of us.
Let's face it, we Dudeists are not the greatest advertisers. Without a flock, except maybe the other occasional barflies and bowlers I might rap with, there isn't much of a regular, attentive audience for the Dudely. That is the nature of Dudeism in its sense. To take it easy, to let life flow, to be the river and not the rock. Rivers don't have schedules, they don't like to "be" up early on Sundays. And while we may love our bowling and our booze, we like them to be as flexible as possible.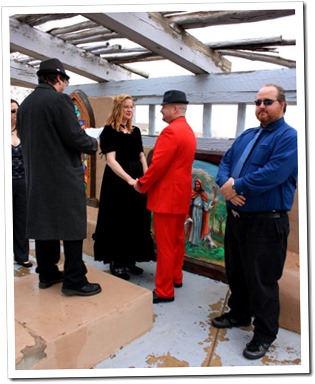 So while I would often mention the fact that I was an ordained priest in passing to friends and acquaintances the opportunity to marry people never came up until a cold December day when a couple needed a stand-in for their ceremony. Being of the nontraditional persuasion the couple wanted a small, pagan influenced ceremony in a graveyard situated in an odd neighborhood in the South Valley of Albuquerque, New Mexico. Not having a specific set of ritual is the pinnacle of being a Dudeist priest. Since we are a live-and-let-live kind of bunch, we can be open to the needs of family and friends.
This first couple I married wanted to have a handfasting that included the priest–in this case, me–slice their hands with a knife as they bonded body and soul together. I myself am not too into cutting oneself for any reason, but it was my pleasure to do so for these newlyweds. I said my sayings, sliced some palms, pronounced these two beautiful people wed and then after photos around the graveyard, the wedding party celebrated with lunch at a diner.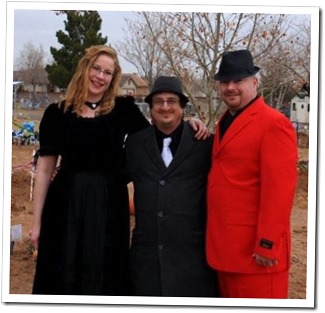 Something unexpected happened to me in the aftermath. I felt a sense of purpose, pride and joy in performing this civil act of union and love. But what was most important was that I was able to do it according to the wishes of the couple. A ceremony of love, the wedding, is a traditional ritual of human culture. But I realized how personal it was and how important the role of the minister, the pastor, the dude is in such ceremonies. In America we still bandy about the idea of marriage as a right, but it is not something that should be or even can be debated as a concept of law or religion. Love is the biggest, most flowing, powerful river of all and to stand in front of any two people and bind that relationship as they see fit is a serious honor. And we may be a groovy set of people, not too keen on responsibility, this is one I think we can all honor.
Marrying these two people made me take Dudeism a little more seriously. I started bowling a little bit more, drinking my coffee, abiding where I could and ensuring as much as possible that the aggressions of life that we so often face do not stand. Be the river, not the rock. I began to think about that and what it all meant and where a Dudeist's place in this crazy world is. And it is to not only abide but to allow others to abide as they see fit. If no one is losing a toe then all is well.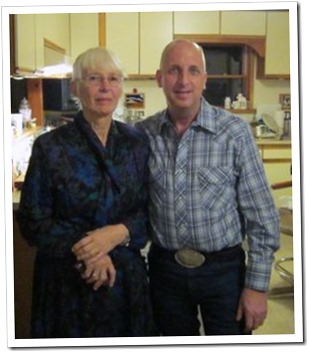 I received a phone call from my friend saying that his father was marrying his longtime partner and they needed someone to do preside over their wedding. They were an older, more conservative, mainstream type of couple. Or at least you'd say that on the surface, but to them what was important was the binding, not the pomp and circumstance that we seem to expect of our wedding ceremonies. I gathered with my friend, his uncle, his dad and the bride in their home. There was no ceremony to speak of. We sat and ate a nice home cooked meal of enchiladas prepared by the groom and vegetarian to my dietary needs. A toast of Cuba Libres were mixed and shared in honor of this union. At the end of dinner, I asked both the bride and groom if they were entering into this union through their own will. After they both said yes, they kissed and my duty was done. It did not have a ritual, not any elegance or decoration. But it was a celebration and union of two people that relied on each other as they saw fit. My role in this community, providing what I can for my friends and theirs, was all that was important. And really, who can turn down home-made enchiladas with fresh green chilies and an ice cold Cuba Libre on an early Saturday night.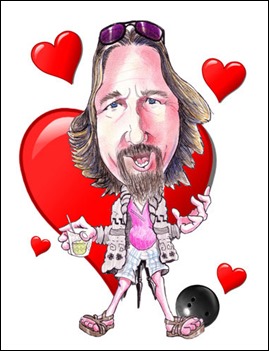 A Dudeist priest, minister, or just plain dude can have a role in the traditions and rituals of their culture. We can provide something more than the county clerk but be less didactic and dogmatic to those who aren't certain or steadfast in their beliefs. A dude understands love, and all its complex ins and outs. And when the more established communities and laws reject the many other shades of love there are, a dudeist can step in and be cool. We have the opportunity to allow people to relax as they enter into one of humanity's most awesome agreements. We aren't confined to these questions of law and morality. We see love as love. Nothing more and nothing less.
I take great joy in being able to preside over any ritual I might be asked to do. After all, this dude likes a good celebration of love or a life lived, a birth or just a good day on the lanes. I sure don't know everything about this crazy universe or where this troubled world is heading. But if it's someone's blessing or comfort you need, you can call me. Just not too early, especially on Sundays.