MATERIAL FOR THE STUDY OF DUDE, Part 1
Barry Popik, David Shulman, and Gerald Cohen[1]
This study is dedicated to the memory of Robert Sale Hill, whose Jan. 14, 1883 poem 'Origin and History of "The Dude"' drew a little-used term from obscurity and added it to the standard lexicon.
Reprinted from Comments on Etymology, October 1993, Vol. 23, #1
Appears monthly October-May; Cost: $10.00 per year (Libraries, Institutions: $16.00 per year)
Edited by Gerald Cohen Department of Applied Arts and Cultural Studies University of Missouri-Rolla, Rolla, Missouri 65401
CONTENTS
I. Etymology unknown; even original country (and hence meaning) is not yet certain – page 2
     A. A look at OED
     B. Edward Bradley (pseud.: Cuthbert Bede) mentions dude in an alternate title of vol. 1 of his 1858ff. The Adventures of Mr. Verdant Green
     C. Robert Sale Hill as the key figure in the U.S. popularization of dude
          i. No dude by Jan. 13, 1883—article in NY Mirror (drama newspaper), p. 2/4
          ii. 2.. Robert Sale Hill's poem on dudes–The World, Jan. 14, 1883, p. 9/5
II. The 1883 dude craze, with an outpouring of articles/poems/cartoons providing insight into the nature of the dude
III. General observations
IV. Cartoons
V. Bibliography
VI. Index
I. ETYMOLOGY UNKNOWN; EVEN ORIGINAL COUNTRY (AND HENCE MEANING) IS NOT YET CERTAIN
Despite various guesses, the etymology of dude remains un­known, and even the term's country of origin is uncertain. Dude is cited as an Americanism in the dictionaries, but evidence exists that it might earlier have been a little-used Briticism. If it was in fact spoken in Britain first, the term could not have meant there what it did when it burst on the American scene (NYC) in early 1883: immature/effete fop imitating what he understood to be British mannerisms. But just what dude might have meant in Britain remains unclear.
A look at the whole subject is in order, and I suspect that the origin of dude will be pieced together only very gradually. In any case, both the dude himself and the 1883 dude craze are striking social phenomena and therefore of interest in their own right.
A. A LOOK AT OED
OED says of dude:
'A factitious[2] slang term which came into vogue in New York about the beginning of 1883, in connexion with the "aes­thetic" craze of that day. Actual origin not recorded.
1. A name given in ridicule to a man affecting an exagger­ated fastidiousness in dress, speech, and deportment, and very particular about what is aesthetically "good form"; hence extended to an exquisite, a dandy, "a swell."
     1883–Graphic 31 March 319/1. The "Dude" sounds like the name of a bird. It is, on the contrary, American slang for a new kind of American young man. The one object for which the dude exists is to tone down the eccentricities of fashion.[3] The silent, subfusc, subdued "dude" hands down the traditions of good form.
     1883–North Adams (Mass.) Transcript 24 June. The new-coined word "dude" . . . has travelled over the country with a great deal of rapidity since but two months ago it grew into general use in New York.
     1883–American VII. 151. The social "dude" who affects English dress and the English drawl.
(G. Cohen: I omit two attestations here)
     1886–A. Lang in Longm. Mag. Mar. 553. Our novels establish a false ideal in the American imagination, and the re­sult is that mysterious being "The Dude."
2. A non-westerner or city-dweller who tours or stays in the west of the U.S., esp. one who spends his holidays on a ranch; a tenderfoot; dude ranch, a ranch which provides entertainment for paying guests and tourists;…Chiefly U.S.
     1883–Prince Albert Times (Saskatchewan) 4 July 5/1. The dude is one of those creatures which are perfectly harmless and a necessary evil to civilization.'[4]
          OED MISSES A MODERN AFRICAN-AMERICAN USAGE
OED is a magnificent achievement, but it does have an Achil­les heel; slang in general and African-American slang in particu­lar. OED's major error with dude is to overlook the modern meaning 'man, guy,' for which cf. Tony Thome's The Dictionary of Contem­porary Slang:
'dude, n. — a man. The 19th-century American sense of dude as "fop," overdressed city dweller, etc. (familiar from Westerns and "dude ranches") gave rise to a 20th-century black usage meaning first pimp or "fancy man," them simply (male) person. The term came into vogue in the 1970s and spread to Britain, where in 1973 it was briefly adopted by the gay and teenage milieux (appearing for instance in the title of the David Bowie song "All the Young Dudes"). In the late 1980s the word has again surfaced in teenage parlance, inspired by its continuing presence in black American street speech. Dude was originally a German rustic term for a fool.
[example]: "There were more commercials…but no more crime…nothing about two dudes in Halloween masks breaking into a Bloomfield Village home." — (Elmore Leonard, The Switch, 1978) . '
As for examples in an African-American context, they abound in modern speech, and I will cite two:
1. 'He's some bad dude!' — This was a compliment spoken by a black man about Don King, the well-known African-American boxing promoter, ca. 1973. I remember reading it in a Time Magazine article.
2. 'If you guys [the press] wanted to be good for Bobby Bo, it would be good," Bonds said recently. "I think he's happy. The dude didn't come from the best neighborhood in the world."' — NY Times, April 25, 1993 (Sunday), sports section, p. 3/5-6; Pittsburgh Pirates outfielder is here talking about his former teammate, Bobby Bonil-la, then having various problems with his new club, the NY Mets.
B. EDWARD BRADLEY (PSEUD.: CUTHBERT BEDE) MENTIONS DUDE IN AN ALTERNATE TITLE OF VOL. 1 OF HIS 1858ff. THE ADVENTURES OF MR. VERDANT GREEN
Thus far there is no clear attestation of dude prior to 1883, despite a few mentions in that year that the term was imported from Britain. Meanwhile, David Shulman has drawn my attention to an entry in the National Union Catalogue:
Bradley, Edward: The Adventures of Mr. Verdant Green, by Cuthbert Bede, B.A. (pseud.) London: J. Blackwood, 1858 3 parts in 1 v.
[187?] The Adventures of Mr. Verdant Green,
an Oxford Freshman . . . 3 v. in 1.
Vol. 1 published also under title: The Dude[5]; or the Adventures of Verdant Green.
(reprints in 1875, 1878)
This should settle the matter, but before writing Q.E.D., we would like to see a pre-1883 copy of the book with dude in the title. The copies in the NY Public Library do not have it, but a continued search is likely to prove successful.
It would also help if dude could be located in the text itself. While in NYC I read pp. 1-44 of the 1858 edition just before returning to Rolla, and thus far no dude has turned up.
C. ROBERT SALE HILL AS THE KEY FIGURE IN THE U.S. POPULARIZATION OF DUDE

1. NO DUDE BY JAN. 13, 1883 — ARTICLE IN NY MIRROR (DRAMA NEWSPAPER), p. 2/4.
The following item is excerpted from a column by 'The Giddy Gusher.' In paragraph 4 she clearly describes a type of young men soon to be labeled 'dudes,' although this term did not yet exist for her. And if a gossip columnist for a drama newspaper is un­aware of a term for which she feels a special need and which is also pertinent to the theatre, that term can at best enjoy very limited use in her city. The passage is:
'…Sam Sondheim is a constant source of comfort to me in a theatre. I noticed him Monday night. There were a half dozen young snips in his neighborhood, dressed within an inch of their silly lives. Their little pink pipe-stem necks stuck out of more shirt collar and open-front vest and shiny broadcloth dress-coat than would make a French ball. And the broad-shouldered, manly Samuel planted a brown business suit among 'em that showed up the physical imperfections of the surrounding snips as a headlight does the switchman's tallow dip….'

2. ROBERT SALE HILL'S POEM ON DUDES ~ THE WORLD (NYC NEWSPAPER), JAN. 14, 1883, p. 9/5.
The start of dude in NYC, 1883, comes with the following poem by a little-known poet, Robert Sale Hill, preceded by an explanatory note in brackets by a writer or editor of The World[6].
'The True Origin and History of "The Dude"'
'[The following "pome," somewhat inscrutable"[7] by THE WORLD. is published as of probable interest, "to whom it may concern,"[8] like A. Lincoln's Niagara letter to Horace Greeley]:
Long years ago, in ages crude,
Before there was a mode, oh!
There lived a bird, they called a "Dude,"
Resembling much the "Dodo."
Its stupid airs and vanity
Made other birds explode, so
They christened it in charity
First cousin to the "Dodo."
It plumed itself in foreign plumes,
And thought home products no-no
For idiocy it ranked with "Lunes,"
And hence surpassed the "Dodo."
When Darwin's theory first saw light,
"The Dude" he tried to think of,
But monkeys being far more bright,
He made the missing link of.
Now lately in this hemisphere,
Through some amalgamation,
A flock of Dudes, I greatly fear,
Are added to our nation.
In form and feature rather young–
Somewhat resembling man, sir–
They flit about and speak a tongue
That is not worth a d–n, sir.
Their features, first I would explain
Are of the washed-out order–
Mild dissipation, feeble brain.
With cigarette smoke border.[9]
Their feathers o'er their brow they bang,
Their cheek resembles leather;
Their style, inclusive, is in slang.[10]
The "Strike me with a feather."
Their father's cuff[11] supports a hat–
The head just seen between them;
A coachman's riding coat at that
Envelopes all and screens them;
Save just below the coat is seen,
Where muscles ought to be, sir,
A pair of pipe stems, cased in green,
Skin-tight and half-mast high, sir.
To this please add a pointed shoe,
Verandas built around it;
A necktie, either white or blue,
C'est fini, if you doubt it.
Just take a walk some sunny day-
Be sure the wind's not high, sir,
For in a breeze they dare not stay
Before they've learnt to fly, sir. —
And there in flocks upon the ave
For ladies they're but slim beaux,
You see them flitting o'er the pave,
With arms—or wings—akimbo.
They have their nests, also a club,
Alas, so misapplied, sir,
Like other birds they love light grub,
For beef's to them denied, sir.
Of stairs their club-house has no need,
For, entering the hall door,
They take a long breath and with speed
Float upwards off the hall floor.
And soaring up are caught with nets
With ribbons held together,
And after being nursed, the Pets
Are blown home on a feather.
They hardly breathe, they are so light;
A smile their coat it creases,
And one who laughed the other night,
Was carried home in pieces.
They do not care for cruel sports,
Like foot-ball[12], cricket, gunning,
But lemonade they drink by quarts,
Their girling's "real stunning!"[13]
The Brush Electric Lighting Co.
Have cased their lights in wire
For fear, attracted by the glow
They'd set their wings on fire.
Imported "Dudes" are very shy[14]
Now "Oscar's" crossed the ocean.[15]
But native "Dudes" soon learn to fly
And seem to like the notion.
If they would only fly away
And settle out in China,
Give us the chance, the girls will say
To hunt up something finer.
America can ill afford
To harbor such deformity,
And we would humbly thank the Lord
To spare us this enormity.
— ROBERT SALE HILL
II. THE 1883 DUDE CRAZE, WITH AN OUTPOURING OF ARTICLES/POEMS/CARTOONS PROVIDING INSIGHT INTO THE NATURE OF THE DUDE
Dude caught on almost right away, although Robert Sale Hill's role in popularizing it somehow fell into oblivion. Journalists writing about dude within a month after the publication of Hill's Jan. 14 poem in the well-read World could wonder about its origin without any mention of Hill or the poem.
In any case, by April 27, 1883, the Daily Graphic could note without exaggeration (p. 404/1):
'There is a craze for writing about the "dude." It is now at its maximum.'
Here is a sample:
1. SPOOF IN THE WORLD, Jan. 15, 1883, P. 5/4:

'THE DISASTROUS FATE OF THREE DUDES'
'Great excitement was caused yesterday in the clubs by the news of a great disaster resulting from the publication in THE WORLD yesterday of what was intended to be a harmless lecture in…
[Note: MATERIAL MISSING FROM END OF II. and BEGINNING OF III.]
…behaviour procured him a ducking in the Cherwell, and a wrecking of his rooms, but the cult spread. Its affectations were burlesqued in Gilbert and Sullivan's travesty Patience (1881). As the leading "aesthete," Oscar Wilde became one of the most prominent personalities of the day; his affected paradoxes and his witty sayings were quoted on all sides, and in 1882 he went on a lecturing tour in the United States….'
B. LANGUAGE IN ITS SOCIAL CONTEXT
Dude illustrates clearly that at least some words and expressions can be understood only in their social context. And to truly understand a language, a linguist must be to some extent a social historian.
C. IN PRAISE OF THE INDIVIDUAL
For some time I have been thinking of preparing a mini-encyclopedia listing everyone I can determine to have contributed a word or expression to the English language. At the moment such works are of the Name-into-Word variety (e.g. Pvrrhus, whose name appears in Pyrrhic victory). Mine would include people like Robert Sale Hill, whose 1883 poem popularized dude.
Is it possible to really understand the history of a language without knowing about the individual contributions that went into the language? If the history of science would be very incomplete without mention of the individuals who contributed to it, why would the history of a language be satisfactorily treated without mention if its individual contributors?
IV. A FEW CARTOONS
As mentioned above, the cartoonists had a field day depicting the dude, and here is a sample. More will follow in later issues.
THE HARVARD LAMPOON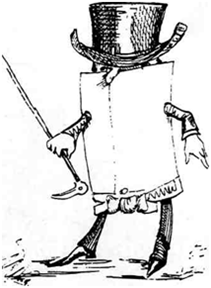 There was a young man named Van Bruce,
Whose friends deemed him somewhat obtuse.
When arrayed in his collar,
(Which cost half a dollar,)
He resembled a large Charlotte Russe.
The Harvard Lampoon, March 23, 1883, p. 29. See above, p. 28 (fn. 2) for a description of a charlotte russe. The high starched collar (here exaggerated), cane, and top hat were trademarks of the dude.
_____________________________________
THE HARVARD LAMPOON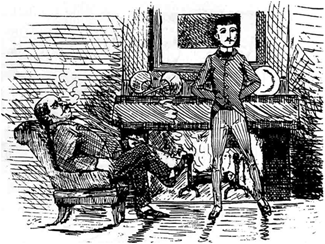 Proud parent. Rather tight trousers of yours, charles?
Charles. Yes, father.
P. P. How do you get 'em on ? Shoe-horn ?
The Harvard Lampoon, Dec. 1, 1882, p. 48. Dude did not emerge as an Americanism until Jan. 1883, but the stylish very tight pants (a trademark of the dudes) were already being ridiculed in 1882.
_____________________________________
HARPER'S WEEKLY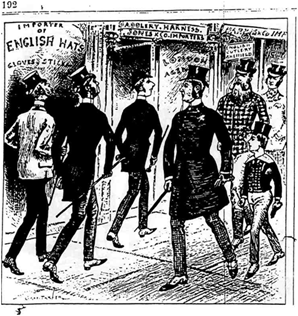 BROWN OF MANCHESTER WRITING HOME
"You would be astonished at the large number of English now visiting New York. Reginald and I took a walk down Broadway the other day, and we noticed that almost every other fellow seemed to be an Englishman."
Harper's Weekly. March 24, 1883, p. 192. The dudes imitated what they took to be the finest features of British fashion (and speech).
_____________________________________
HARPER'S WEEKLY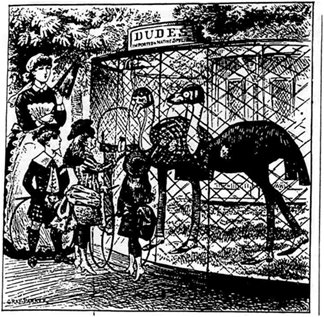 THE NEW BIRD
ORINTHOLOGY.
Dopo, dudo, dudu, didi, doudo, a bird of the genus Didus.
Didius, a genus of bird including the Dude
Harper's Weekly, March 31, 1883, p. 208. This cartoon re­flects the view first set forth in Robert Sale Hill's Jan. 14, 1883 poem in The World that dude derives from dodo.
_____________________________________
HARPER'S WEEKLY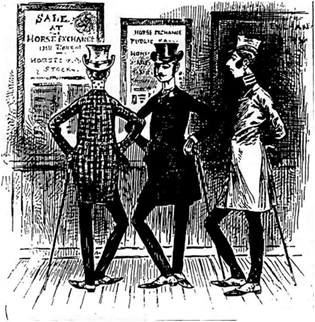 SOME AUTHENTIC DUDESQUE POSITIONS.
The above can only be obtained under the following conditions:
1. An absolute obliteration of the shoulders by an English tailor,
2. A stick or staff a great deal too long for the bearer.
3. A queer and inexplicable working of the right leg, which, when at vest, appears ever so much longer than the left.
Harper's Weekly, April 28, 1883, p. 271.
_____________________________________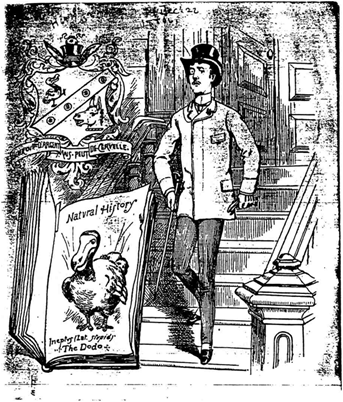 Robert Sale Hill 'History and Origin of the "Dude,"' reprint of his Jan. 14, 1883 poem with a similar title in The World.
The reprint is illustrated by H. A. Ogden. This cartoon appears right after the title page.
The French under the coat of arms says: 'Much money but little brains.' Incidentally, the French word for 'little' here is misspelled: 'peut' (= can, is able) rather than 'peu'; the error was probably unintentional.
Navigate to:
Part 1: "Material for the Study of DUDE"
Part 2: "More Material for the Study of DUDE"
Part 3: "More on DUDE"
FOOTNOTES
---
[1]
1 (G. Cohen) Credit for this study goes primarily to attorney and word buff Barry Popik, who piled into the topic and for six months provided me a steady stream of material on it. I informed OED consultant David Shulman of Popik's research, and Shulman, who had already done some preliminary work on
dude
, added a few impor­tant contributions of his own. I also tried my hand at it, but the central figure remains Popik.
In the present issue I have compiled some of the material sent to me. I add some remarks of my own, and in so doing accept sole responsibility for any possible errors of fact or interpreta­tion.
[2] (G. Cohen) There is not a shred of evidence that dude arose factitiously, i.e., somehow artificially, OED simply should have said: 'Origin unknown."
[3] (G. Cohen) This quote is at odds with the broad consensus in the 1880s that the dude was deservedly an object of ridicule.
[4] (G. Cohen) This quote was almost certainly placed here erroneously by OED and belongs instead with meaning #1. The next OED attestation of meaning #2 for dude is 1921.
[5] (G. Cohen) N.B.
[6] (G. Cohen) A few words are barely legible or simply illegi­ble, but these uncertainties are removed by reading a reprint of the poem drawn to my attention by David Shulman:
Robert S. Hill. The History and Origin of the Dude, 9 pp., illustrated, no date. Available on microfilm, apparently only at Brown University. My thanks go to Ann Patrick (Asst. Curator, Harris Collection, Box A, John Hay Library, Brown University, Providence RI 02912) for making a copy available to me.
[7] (G. Cohen) The poem was somewhat inscrutable because dude was as yet virtually unknown in NYC. Also, the writer's syntax is somewhat jumbled here; we deal with a 'pome' (which is) somewhat inscrutable and a 'pome' (published) by The World.
[8] (G. Cohen) 'to whom it may concern,' i.e., the NYC dudes.
[9] (G. Cohen) i.e., the dude gives off a puff of cigarette smoke that circles up and around the back of his head; illustrated in the undated reprint of the poem.
[10] (G. Cohen) Why slang? We deal here with effete, snobbish speech.
[11] (G. Cohen) What is a 'father's cuff?
[12] (G. Cohen) In the undated reprint, R. S. Hill substitutes
'baseball' for 'foot-ball' here. Reason: ?
[13] (G. Cohen) Meaning of this line: ? — In the undated reprint the line is altered to: 'And girling, quite too stunning.'
[14] (G. Cohen) My underlining. NB: 'Imported "Dudes"' (vs. 'native "Dudes"' two lines later). The importation could only have been from Britain, which seems to indicate that the term dude existed in Britain, albeit with a different meaning than in the U.S. As a start, according to Hill, imported dudes were shy.
[15] (G. Cohen) This probably refers to Oscar Wilde, whose effete eccentricities might have seemed like the epitome of culture to some impressionable U.S. young men. The NYC dudes might well have been imitating Wilde, who was the leader of the 'aesthetic' movement and visited the United States in 1882.