BREAKING NEWS! They need Lebowski fans to administer the trivia contest! Those chosen will get in free. Email
Cheryl.Valdez@nbcuni.com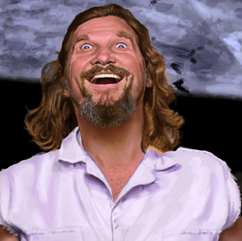 Hey, to celebrate the launching of The Big Lebowski on Blu Ray, the folks down at the league office are throwing a special shindig in L.A. for Those Who Love Lebowski. It's shaping up to be the biggest west coast Lebowski event of the year! At least until Lebowskifest rolls into town Sept 23-24.
Partnering with Thrillist, Universal will be offering a far out deal for all involved on August 30 at Universal City Walk in Hollywood. First off, they're showing the film simultaneously on four screens at the Universal Citywalk Theaters. Aside from all sorts of other goodies, die hard Dudeists will want to take note–All attendees will get a free copy of Dudeism's very own "The Abide Guide"! Far out! Far fucking out! Plus, the Dudely Lama will be blessing each screening to prevent technical difficulties.
Note: Can't make it to the event? You can still get a free copy of "The Abide Guide": Scroll to the bottom of the article to find out how.
Tickets and more info are available here.
Here's the full list of what you get for your
28 bones or clams or whatever:
Admission to screening of "The Big Lebowski" in cushy reclining seats!
(2) White Russian drink tickets to enjoy during the film
A copy of newly released book from The Church of the Latter-Day Dude: "The Abide Guide: Living Like Lebowski"
Lebowski trivia, quote-offs and prizes prior to showtime.
Exclusive deals at the afterparty at Jillian's on CityWalk featuring $6 bowling games, free shoe rentals, $3 White Russians, $4 well drinks and an open kitchen for dinner.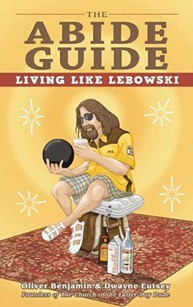 Here's the schedule:
PRE-SHOW: (7:30 p.m.)
A blessing will be performed by The Dudely Lama of The Church of the Latter-Day Dude (Dudeism)! All sorts of other shenanigans as well.
Talent appearances by:
Jeff 'The Dude' Dowd (Whom the character of the Dude was based upon)
Jon Polito (Da Fino)
Philip Moon (Woo)
Jim Hoosier (Liam)
Check-in begins at 6:30 p.m., pre-show at 7:30 p.m. and screening begins at 8:00 p.m.
Now if you can't make it to the event, you can still get a free copy of The Abide Guide. Ulysses Press is looking for some good men and thurrah and some special ladies to review the book. If you're innarested, please contact Beth Cook at BethCookPR@gmail.com.
Hope to see you there!