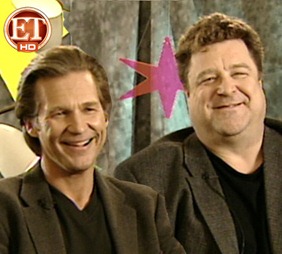 [Note! Awesome 1998 Lebowski promo video at the end of this article.]
Sometimes the value of something is determined by its scarcity. This was a valued, uh…You know what I'm trying to say.
One hot button topic surrounding Lebowski has long been whether or not there will be a sequel, or a prequel. Or a whole trilogy set in a bowling alley far, far away. One of the topics surrounding the amazing Lebowski Cast Reunion last week was whether there might ever be a sequel and if there would be, what would it consist of? In the same vein, the cast members imagined what their characters might be doing now. According to Jeff Bridges, the Dude "is a masseuse." Far out. Lotta knots in old Duder's clientele.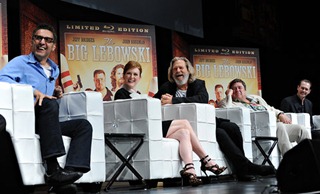 Of course, John Goodman sobered everyone up by pointing out the obvious likelihood concerning a sequel: "It ain't gonna happen." And that's probably a good thing. This was a valued…uh…The last thing we need is for Lebowski to turn into a Star Warsy miasma of misdirection.
However, a fascinating thing to ponder on is this: somewhere in an archive somewhere there is a trove of deleted scenes and takes from the film. And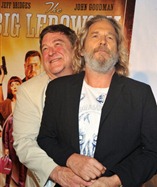 someday archivists might have the chance to release them to the masses. Verily, an entire new movie might be fashioned from the effluvia of the original. Like a monstrous Mini Me. Perhaps in a few decades, once the Coens have slipped into senile dementia, they could be talked into allowing this to happen.
Until then, we'll have to be content with the canonical film and any related material out there. Speaking of which, here's an amazing clip from the original press junket for the film. It just came to light! Are there any more out there? Let us know! This will really blow your mind, man. Click on the image to play: