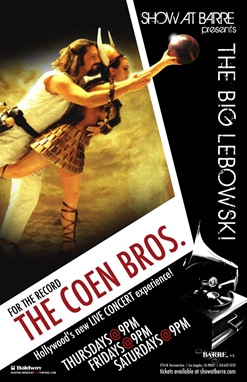 By Rev. Crash Winfield
One of the charges often leveled at Dudeism is that the concept of a religion based on a movie is necessarily ludicrous. Well, that's just like, their opinion man. An opinion, mind you, which is based on the ludicrous idea that the more traditional something is, the more profound it must be.
Surely this is an idea that has been under attack for the last 100 years. Culture evolves and reinterprets itself constantly. And it is in this reinterpreting that culture is, er, cultivated — not via a fascist allegiance to static forms. What is that, some kind of yogurt? It increases the chances of conception.
That's the way the whole durn human comedy perpetuates itself: Religious scholarship in the 20th century showed that virtually everything in Judeo-Christianity originated from the Zoroastrians and the Egyptians. And after that, the philosophical Postmodern movement helped show how pretty much everything else we held dear was also built on filched content and borrowed assumptions. Aitz chaim he, Dude. The tree of life is a burning bush.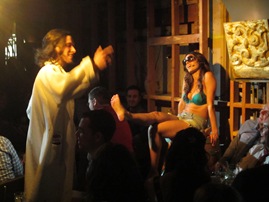 Of course, this should come as no surprise to anyone under 20 years old, that is to say, babysat by the Internet. The implicit "replay culture" of the 'Net has disassembled and reinterpreted content in ways that both honor old ideas and provide new ways of thinking about things. And while this is especially evident in music via sampling and remixes, it has also long been crucial to the works of filmmakers like Quentin Tarantino and our beloved Coen Brothers. What is The Big Lebowski, after all, but a two-hour mash-up of the whole durn human comedy?
Certainly all forms of art have been subject to remixes and mashups and mulitlayered parodies. But theater? Well, Dude, we just don't know. The average person doesn't get to watch much theater these days. Luckily for this author, the other night he got to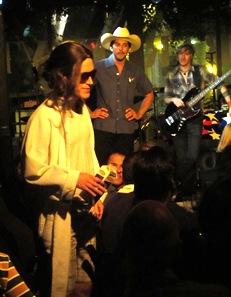 experience a particularly far out piece of mashed up musical theater which really tied the room together, in the every sense of the word. And it was unlike anything he'd ever seen before.
For the Record is a production currently hosted at a small bar/restaurant in Los Angeles which takes a totally novel approach: Take live performances of songs from the soundtracks of all of a particular director's films and weave them together with riffs on scenes from the films, into what amounts to a retrospective of an entire body of work. Uni-verses, if you will.
The effect is not unlike being transported into one of the dream sequences from The Big Lebowski, especially since the actor-singers interact so exuberantly with the audience as they dance and sing and act their way around the bar, and oftentimes upon the bar itself (hold your oat sodas close to your chest as they mambo along the marble).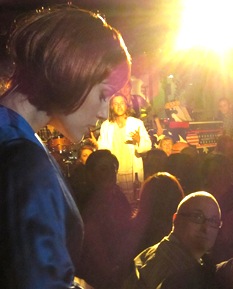 Starting with songs from O Brother, Where Art Thou, then meandering through Fargo, True Grit, Miller's Crossing, Intolerable Cruelty, A Serious Man, The Hudsucker Proxy, it finally arrives at the moment we'd all been waiting for: The Big Lebowski. Already nominated by one of our Dudespaper writers as a candidate for a musical, it indeed turned out to be a fucking far out experience.
One of the best things about the show is that the producers made sure not to hew too closely to the original script, reinventing certain scenes and choosing unusual characters to perform certain songs (knockout Jackie Seiden's rendition of Elvis Costello's "My Mood Swings" as Bunny Lebowski was particularly noteworthy) or performing songs in a totally different style (An R&B version of "The Man in Me" sung by Rogelio Douglas Jr. provided everyone in the room, oh, what a wonderful feeling).
A hilarious highlight was Ginnifer King's delightfully demented version of Tammy, set against a backdrop of Marty the Landlord's dance cycle. Of course Anderson Davis' Dude and Jason Paige's Walter were also fantastic – though their talent shone more brightly in numbers from other Coen movies, along with Steve Mazurek, who appeared as both the Stranger and Donny. The three were especially good as the trio in the O Brother Where Art Thou portion of the show. Milena Govich's Maude was also stunning, though it was her wildly sexy turn in Hudsucker Proxy's Habanera that blew back the collective hair of the audience. Finally, Danielle T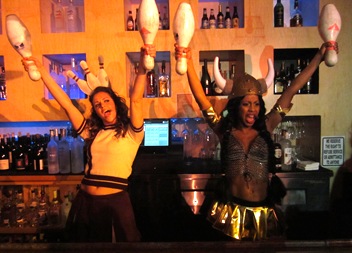 ruitt performed the most outrageously laughworthy number of the night, Fargo's "Do You Know the Way to San Jose" as a totally inebriated Dion Warwick-hits-rock-bottom type character.
It's a bit hard to convey just how disarmingly different this approach to theater seems to be. Part rock concert, part dinner theater, part psychedelic dream sequence and all fun as hell. Moreover, ingenious producers Shane Scheel and Christopher Lloyd Bratten have also performed the same treatment on the oeuvres of Quentin Tarantino, Baz Luhrmann and John Hughes. Next up? Paul Thomas Anderson. But since the Coen Brothers show is only playing for a few more weeks, you'll have to hurry to get tickets. Every night sells out, so don't take er too easy, Dude.
For more information or to get tickets, click here.
For a few off the cuff videos of the performance visit this video album. Be aware that my poor camera skills and random shooting is not representative of the whole. The best parts were too good to watch through a video camera.