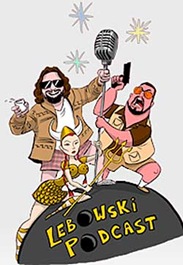 Hey any of you dudes out there who regularly read The Dudespaper have surely come to dig the style of our frequent contributor Chalupa, the man for his time and place, who conceived the popular Lebowski Podcast site with his wife Liz.
Well their little Lebowskipodcast is turning two years old and we're happy to wish it a very abideful birthday.
Stop by and listen once in a while, as the Dude says, you might learn something!
Here's a link to the official press release.
And proud we are of all of them.