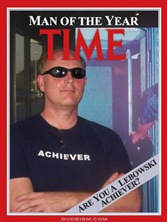 Dudeism is something you feel in your heart, but sometimes it can be fortifying to wear it on your sleeve or announce it to the public. Or tattoo it on your forehead. It's your roll, dude.
Turns out Glenn Clark and Drew Forrester, two DJs at Baltimore radio station WNST felt they wanted to really affirm their commitment to Dudeism. So they invited The Arch Dudeship Dwayne Eutsey onto their show to help lead them in an official ceremony.
Dwayne bumped himself up into a higher lax bracket and came up with a far out list of vows for them to repeat on-air.

Good times and even a few choice Caddyshack references were enjoyed by all. Listen here

Here's the transcript of the vows for those of you who don't elect to fucking listen occasionally (and that's cool, that's cool):
Intro:

In this uptight world of pain filled with real reactionaries and nihilists running around threatening to cut off our johnsons and whatnot, the Dude calls each of us to just take it easy, man.

As a Dudeist Priest, you are called to achieve this modest task by abiding through all the strikes and gutters that the cosmic bowling alley rolls your way.

The Church of the Latter-Day Dude has unfolded these vows (in a parlance that won't violate FCC obscenity rules) to help you really tie your life together as an official Dudeist Priest.

Are you ready to take that hill?

Vows:

Repeat after me:

As an ordained Dudeist Priest, I (state your name) vow:

To just take it easy, man
To spread the dude word when it's not too exhausting
To always make time to have some burgers, some beers, a few laughs
To check in to see what condition my condition is in
To not treat objects like women, man
To uh…lost my train of thought there
To keep my mind limber
To enjoy natural, zesty enterprises while fixing the cable
To never repeat what a stranger on the phone tells me to say
And always, in a world gone crazy, to abide

Outro:

Now, my Brother Shamuses, go forth, abide, and to thine own self be Dude.

Lord, you can imagine where it goes from here.
Now while these vows might prove a little too esoteric for use at an ordinary wedding party, any of you Dudeist Priests out there who want to utilize them for any ceremonies should feel free to do so. Also feel free to change them around, insert your own favorite lines from the film or from other Dudely sources of your choosing.
Or just repeat them to yourself the next time you're laying on the rug or hanging out in the tub. They'll help keep your mind limber.