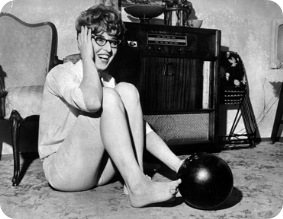 Hey fans of deep thoughts and limber thinking, we've got bad news and good news. The bad news is that Lisa Donald recently closed her excellent Lebowski Theory website. The good news is we've republished her theory at Dude University! So go on and check it out if you haven't already:
Bowling, Gender and Emasculation in The Big Lebowski
Now some of you might find all that postmodern talk a little stupefying, and the viewpoint is one to make some menfolk feel a little down about the current state of affairs between good men and special ladies in our society today. But it's a brilliantly, lovingly thought out thesis and proud we are to have such a marvelous addition to The Dudespaper and Dude University. Thanks, Lisa. Or perhaps we should say thanks Professor Emeritus Lisa Donald, Ph.Dude?
Hey, any of you college students out there who aren't too busy occupying administration buildings or smoking Thai stick, why not write about The Big Lebowski or Dudeism or Lebowskifests or something for your classes? You can publish your papers here. The world could use some smarter fellers than ourselves trying to make Dudeist sense of the whole durned human comedy.