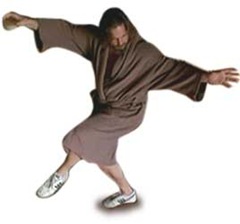 It's about time! Dudeism finally has its own music genre. Call it Throwin' Rock. Or maybe Herb Hop? Take-er-Easy Listening? Acid-Flashback Jazz? We're not sure what to call it yet, but it's out there. And we take comfort in that.
We were contacted by one Dudeadelic achiever named Tim Feeney today who made us privy to a song he put together called "The Royal Wee." It hilariously and imaginitively arranges soundbites from The Big Lebowski to music.
Way to go Timmy!
We'll be suprised if you don't immediately launch into a dance quintet upon hearing it.
Check it out at his myspace page. It's the first song in the list, and should start streaming immediately. Takes a minute.
We can hardly sit down.
By the way, a search for "The Royal Wee" on YouTube gave us this.