Interview With Roy Preston, the owner of The Little Lebowski Shop in NY
Roy Preston owns one of the only (if not the only) stores devoted to The Big Lebowski in the world. We thought we'd ask him a few questions to help make us privy to the new shit which has come to retail. Note that Adam Bertocci (Two Gentlemen of Lebowski) will be hosting a book signing there on October 30th from 3:00 to 5:00.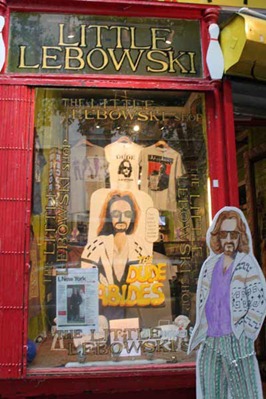 1. Tell us how you ended up running the world's only (known) Lebowski-themed retail store.
In November of 2007 Nicholas Dollak, my business partner, and I opened a store; not the Little Lebowski Shop mind you, but rather a children's book store in the heart of Greenwich Village, New York City.
I suppose this begs the question, how does one open a children's book store and end up instead running a Lebowski shop?  Well, catastrophe struck a month later when the indestructible United States economy sank like the Titanic. For our first two years in business no one was shopping. What an utter conundrum! In desperation we tried a number of different formats in the store. One of which included the worst comic book shop in New York City's history.
Facing certain eviction I decided to put Lebowski T-shirts in the store, my rationale being that if I was to be thrown out in the street I might as well have some fun in the process. As fate would have it the Lebowski shirts were the only item in the store that sold; and I, having nothing left but a bathrobe and pajamas, decided I might as well wear them in the store all day. Hence, The Little Lebowski Shop was born. 
2. What products do you sell?
We Sell Big Lebowski merchandise and other retro T-shirts. 
3. What did you do before you started The Little Lebowski Store?
I was a writer and a scoundrel.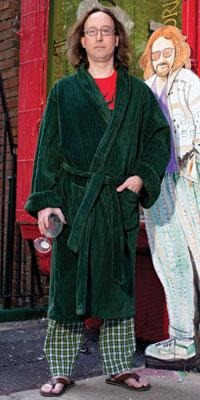 4. What is the reaction of most people when they visit the shop?
Most people are left speechless. I'm not sure if that's because of the store or the sight of me wafting towards them in my bathrobe and pajamas; nonetheless, I assure you both are grand and illustrious sights to behold.
5. Any plans to expand? Or to franchise?
The only thing expanding at this moment is my stomach, and I'm certain no one wants to franchise that.
6. What do you think it is about The Big Lebowski that you think inspires/attracts so many people?
Everyone knows someone like the Dude or Walter.  They're universal characters and that's why people love the film so much.
7. Tell us the funniest thing that happened at The Little Lebowski Shop.
A woman walked into the shop and purchased 15 shirts as a gift for her boyfriend.  At the end of the transaction she blurted out excitedly, "I'M GETTING SO LAID TONIGHT!"
8. What's your favorite scene from the movie and why?
My favorite moment is the 'Like an Irish Monk' scene. On one hand it's a comment on the film noir genre, with the private detective played by Jon Polito telling Jeff Bridges how much he admires the Dude's nonexistent detective skills, while at the same time just being flat out funny.
The Little Lebowski Shop – At 215 Thompson St., between Bleecker and Third streets
Greenwich Village, New York, NY

Take a tour here.