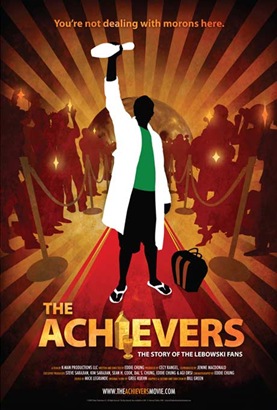 Eddie Chung's The Achievers: The Story of the Lebowski Fans is rolling into your town!

Several hundred fortunate achievers were lucky enough to witness Eddie Chung's documentary about Lebowskifest at the recent 'Fest in Louisville. According to most accounts (and police records) it was quite the event.
Now, at long last, it's the general public's chance to join in the mayhem with selected showings at various locations around the United States. (See below for current schedule but double check with the official site to be sure.)
Five years in the making, the cult of Lebowski finally has a documentary to help explain to future civilizations what all the fuss was all about. Furthermore, nap-happy professors of Dudeism will have another film to fill a class with for Introduction to Lebowskology 101.
Here are some early reviews of the film: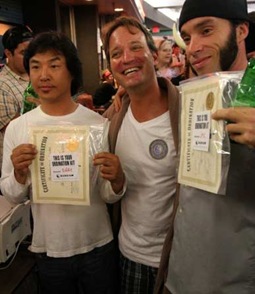 Director Eddie Chung and Jaik Freeman (the real life Little Larry) holding up their freshly-minted Church of the Latter-Day Dude ordination certificates with Rev. Oliver Benjamin at the Los Angeles Lebowskifest in May 2009
-Film Threat
-Just Press Play
-SF Bay Guardian
-Variety
CURRENT SCHEDULE:
July 30th, 31st & August 1st
Los Angeles, CA
Laemmle Theater
11523 Santa Monica Blvd
30th – 10pm, 31st and 1st – Midnight
September 10th
Chicago, IL
Portage Theater
4050 N Milwaukee Ave.
time – TBD
September 18th
Boston, MA
Coolidge Corner Theater
290 Harvard Ave.
Midnight
September 21st
New York, NY
Cinema Village
22 E 12th St.
Time – TBD
September 27th
Washington D.C.
Arlington Cinema and Draft House
2903 Columbia Pike
Arlington, VA
Time – TBD
October 2nd
Dallas, TX
Lakewood Theater
1825 Abrams Rd # A
Time – TBD