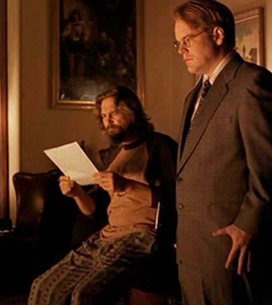 Hey all you Lebowskintellectuals out there: We've just posted two brand-spanking new (to us anyway) Masters' theses at Dude University. They might not be such a simple, uh, you know, but they sure are deep and worth taking the time to read. They're both treasured additions to the growing compendium of Lebowski Studies we host here at our Public Residency Program in the here School for Serious (and not-so-serious) Dudes.
Pablo Martin and Valerie Renegar take a look at The Big Lebowski's wild and wonderful approach to social criticism in his "The Man for His Time: The Big Lebowski as Carnivalesque Social Critique" and James Kerr investigates and dissects the Dude's inspiring and unusual psychological make up in "Psychological analysis of the Dude: A Psychological analysis of personality: The Dude in The Big Lebowski".
Pretty soon we're going to be expanding the University and maybe even starting an informal Ph.Dude program. Check back here regularly or subscribe to the Dudespaper so you'll be the first to know, future Dr. Dudes.
We're also going to be reviewing Ed Comentale and Aaron Jaffe's The Year's Work in Lebowski Studies. Can't wait for that! Lotta strands to keep in old Dudespaper's head, man.
Lax et Veritas, Dudes.