No Frame of Reference—Musings from the Arch Dudeship
By Rev. Dwayne Eutsey
Arch Dudeship here, takin' er easy in a corner of my favorite coffee shop…well, it was my favorite until some real reactionaries bought the place. Trying to turn it into a third-rate Starbucks. But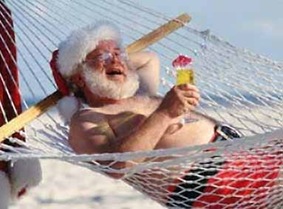 that's cool…I can't drag that negative energy into the column here, man. So I'm just finishing my coffee…Enjoying my coffee.
And it's a great day to do so, Dudes. After a long, stressed-out year of elections and economic bummers, the natural world outside is kicking back for a long winter's nap. A hot cup of java is just what the Arch Duderino needs to help keep my mind limber. Especially with the hectic holiday season now warshing over us.
If you're new to Dudeism you might be wondering just what we do to celebrate the holidays. Or, if you've been a Dudeist for while, you're probably not even aware that the holidays are here. Either way, it's a good idea to take advantage of my surging caffeine buzz to lay out the role holidays play in the Church of the Latter Day Dude.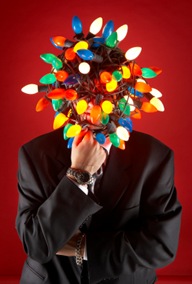 When it comes to the traditional holiday season, I think many of us—and I'm talking about Dudeists here—are really old fashioned at heart.
Now, I'm not being a sentimentalist, Dudes. It's just that I think it's safe to say that we're not into the whole scene today where people run around observing the holidays compulsively and without joy.
Oh, no.
Deep down, Dudeists yearn for a simpler time…we long for a bygone era when this time of year didn't revolve so much around marketing and materialism, debt and depression, and those damn chipmunks singing about hula-hoops and what-have-you.
It may just be just my opinion, but I believe most Dudeists join me in wanting to return to the good ol' days when everyone knew that the simple, indisputable reason for the season was to stagger drunkenly in the streets during a raucous week or two of anarchic debauchery.
Yeah, just like the ones I used to know.
But instead what we have today is this uptight blend of raw hyper-capitalism pumped up on sugary Victorian sentimentalism with a dollop of stale piety on the side. It can be a real bummer, man.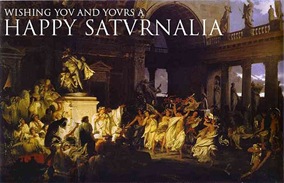 Let's not forget that this time of year wasn't always the holiday paraquat that it's become. The Romans used to have a week-long toga party called Saturnalia (well, actually, most of them discarded their togas, if I understand it correctly); the Norse pulled out their hefty Yule logs and partied until they burned out. Even after Medieval Christians bogarted the festivities away from pagans, English peasants at the end of a tedious year plowing the fields said fuck it, downed a few gallons of oat soda, and went around demanding rugs and whatnot from the wealthy Big Lebowskis of their day.
It's time, Dudes, to get back, get back to where we once belonged. Reject the commercialism, man, and get down to basics. Hell, just get down. It's like K.C. said: Do a little dance, make a little love…get down bay-be.
Does that mean I'm saying we should reject Christmas, wantonly upturn all social order, and revert to drunken pagan revelry in the streets? Um, well, honestly, I don't know…I kind of forgot where I was heading with all this.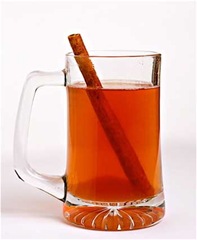 I guess what I'm saying is that no matter what holiday you celebrate it's important for Dudeists to continue doing what we do during the rest of the year: just take it easy, man. Make time to hang with the people you dig, share a few beers, or wassail, or what-have-you, have some laughs.
And if you have the urge to pull out your Yule log, just make sure everyone's cool with it first.
Abidingly,
The A-D
P.S.: Well, as the coffeehouse owner with the cleft asshole continues to hover around the Arch Dudeship, trying to rush me out of here, I wanted to say that we at the Church of the Latter Day Dude haven't gotten around to establishing any official Dudeist holidays yet. But there are some interesting suggestions over at Dudeism.com for Dudeist holy days of veneration and festivity. Check it out and make your own suggestions there or in the comments box below.