Dudeism just donated $1000 to Kiva.org and set up a cool new lending team. Join us now! There's pracically no risk and you can help lighten up the whole durn human comedy.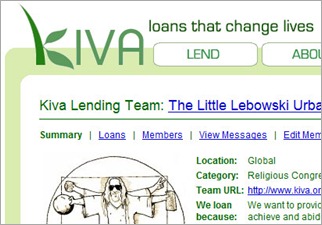 Because we here at The Church of the Latter-Day Dude are keen to help those without the necessary means for a, necessary means for a higher standard of living (and perhaps a bit of hard-earned takin' er easy), we've started the Kiva "Little Lebowski Urban Achievers (Dudeism)" fund.
As promised, all of the proceeds from the sale of our holy book, The Dude De Ching go to this "foundation". We've finally hit $1000 (500 copies at $2 royalty each) and have just disbursed it all. $850 went to loans of $50 each to 17 groups all over the world and $150 went to Kiva.org to help them keep on keeping on.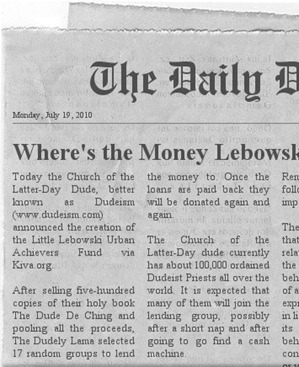 Want to help? Purchase a printed copy of the Dude De Ching here or make a donation yourself via the fund. In fact some of our esteemed Dudeist Priests have already done just that. And proud we are of all of them.
Once the loan is repaid (almost 99 percent of all kiva.org loans are), you can either take the money back  or you can loan it again, secure in the knowledge that you're helping the less fortunate and putting your bones or clams where your heart is.
Plus, Kiva loans are tax-deductible, which will help you get bumped into a lower tax bracket.
Makes you feel all warm inside. Don'tcha think?
[*Note: The Dude De Ching is now being published via Amazon.com's CreateSpace service. Up to twice as much money will be raised per book sold.]