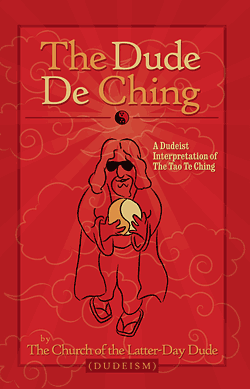 The Tao Dude Ching has been renamed, and is now available in print!
Hey Dudes, just want to let you know that the Tao Dude Ching has had its handle changed to the Dude De Ching. That's because we don't want it to get confused with the upcoming publication of The Tao of the Dude. So that's what you call it.
Also, we understand that reading off of a computer screen isn't nearly as dude as kicking back with a nice paperback version in a hammock with oat soda in hand. So we've made a print version available at Lulu.com. You can order it here. [Those ordering from non-US addresses will probably find that the international version works out cheaper due to lower shipping costs.] It's even illustrated by award-winning mystery novelist and cartoonist Colin Cotterill (the guy who made our popular Dude Vinci drawing).
We've kept the price low but have tacked on a $2 royalty, all of which will go into a fund that will be donated to the awesome charity website Kiva.org. Basically, they loan money to people all over the world so they can quit their boring or shitty day jobs and do what they really want to do with their lives. Sounds pretty Dudeist, right?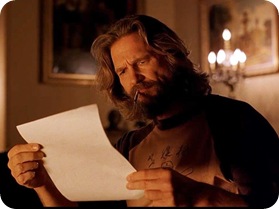 The Dude De Ching is an inspiring book that no true Dude should be without. It's a Dudeist "translation" of the Tao Te Ching which uses elements from The Big Lebowski to get its message across. Funny, poetic, and deep, it makes a soothing companion when darkness warshes over or if you just need help keeping your mind limber. If you hurry you might even be able to get one in time for Xmas — bestow it upon any or all of your Dudeist or Lebowski-loving pals. Plus, each verse is followed by Peter Merel's excellent Tao Te Ching interpolation so you can see how closely Dudeism and Taoism are related. It's like two books in one. Fabulous stuff, man.
Want to know more? Read the original Dudespaper article about the Tao Dude Ching. You can also read the preface and inner-duction by clicking on the "preview" link under the cover image on the Lulu.com page.
Note: you can find coupons here: http://www.lulu.com/gift_ideas