[Note: the contest is now over. But you can still buy the Dude De Ching for only under 7 bucks (2 bucks of which go to charity!)]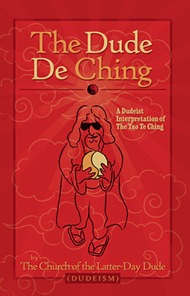 Hey Dudes!
The print version of The Dude De Ching (our Dudeist translation of the Tao Te Ching) has been selling really well. We've already raised over $400 for the charity website kiva.org.
Now a really cool website named The Toilet Paper is helping us get the word out and is sponsoring a giveaway of 30 copies. All you have to do is subscribe to their site and you could be one of the 30 to win a free copy of this inspirational, celebrational, dudeitational book.
Of course, we wouldn't recommend The Toilet Paper if we didn't dig their style. In true dudely fashion, they give you a quick, simple, provocative and humorous run down on one newsworthy topic of interest each day — basically just enough to keep you occupied while sitting on the can! And they do so in a very cool style — breaking things down into easily-digestible bits of certain information, man.
Now when new shit comes to light, you'll have a literal connection. And maybe a free book too! We hope you make it to the finals!