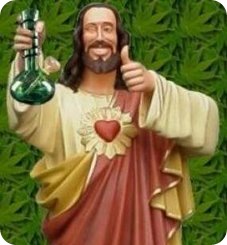 By Rev. Ed Churchman
As everyone sitting here is undoubtedly aware, Christmas, known to some simply as "The Season" is nearly upon us. But during this season is there really any significance to a Dudeist, or is this just a Christian thing? Nowadays, Christmas, is irrefutably an occasion for all, no matter your creed. However, beyond that, it truly is of significance to the Dudeist edict.
So, what is this Christmas thing of which I speak? Christmas is a hodgepodge of various factors and aspects, and we'll have to look a little deeper to unravel this conundrum.
Christians celebrate the birth of Jesus Christ on this day, but of course, it's generally agreed that Jesus wasn't born for some weeks after this date, possibly even a few years after, depending on whose calendar you have hanging on your wall. But the general message of the Christian Christmas is that of the celebration of the joyous event of the son of God coming to earth to give us a hands-on example of how to be excellent to each other. So, despite the mix up in dates, the significance of the festival is not lost. I mean, how many of us celebrate our own birthdays at the nearest weekend, rather than on the day, and does that detract at all? Hell no.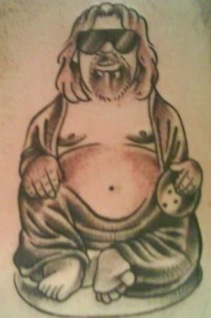 So, let's keep on this train of thought about Christ and explore this guy a while. A devout Jew this man has sparked one hell of a following for various reasons. Several hundred years after his departure from this world a whole religion splintered from Judaism in following of his teachings, believing he was the son of God, and simultaneously an aspect or facet of God himself. Some more years roll by and yet another religion splinters from Judaism and suddenly this guy's a great prophet sandwiched somewhere between Mohammed and Moses, come to earth to tell people a little bit more about this God cat. Rastafarians take a similar view, but with the added belief that he's already come back to earth for a second visit. Even Buddhists recognise this man, who some believe was a Buddha (enlightened one) himself, and some that don't truck with that particular hypothesis instead say he had access to eastern philosophy, possibly by even going out to India and studying during the unaccounted period of his life.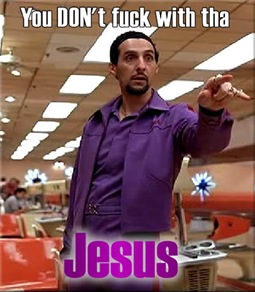 Now we all agree Jesus himself is significant. He's a follower of one religion, a key figure in at least three others, and a respected figure in another. That's five of the major religions in the world right there he's got his fingers dipped in, even if most Jews don't always reciprocate the love he had for them. But what about Dudeism? Surely we all realise that Jesus was a Dude, right? He was certainly the coolest cat in Jerusalem, of that there is no doubt, travelling the land and spreading his own brand of peace, tolerance and laid-back good-living all across the holy land. Whether it was all self-realised, or a mix of Zionist and Eastern philosophies shaken up and served on the rocks with a dash of goat's milk is perhaps neither here nor there, because the fact remains, what he stood for and what he taught is some of the key fundamentals of Dudeism. "Do unto others as you would have them do unto you" is perhaps the key lesson in this world when it comes to dealing with any other person (unless you're a masochist, in which case this doctrine will quickly turn you into a sadist, which is not cool).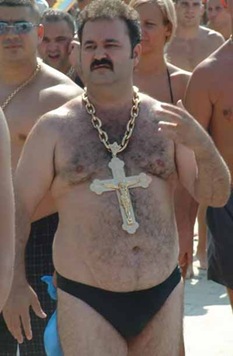 And there we have the Jesus aspect pretty well sewn up. It's primarily his festival and we have a stake in that. But what else? Surely there's more to Christmas than just Christ?
As I've already pointed out, the date of the Nativity is possibly a little off, which is cool, but December 25th itself is actually very close to a Roman festival the week before, named Saturnalia. And this in itself bares some great Dudeist significance.
What was Saturnalia about then? Primarily it was about raising morale. And to do that everybody was allowed to rest and chill, sound theory, right? Even the servants had it good, allowed to switch places with their masters and be waited on hand and foot for the duration. And in between there was fun and games, temporarily legalised gambling and the giving of small gifts. So this was a holiday for the workingman, a time for those who are not usually allowed to chill to do so, and for everyone to come together and bond and just enjoy themselves, forgetting the seriousness of life. Any of that sound familiar? Fun and games, giving of gifts, taking a break from work? That's right, when the Romans took a hold of Christianity they put the Nativity and Saturnalia in the cocktail shaker and poured out slowly across the world.
Now we have Christmas, a holiday for everyone, consisting of twelve days of chilling, gift giving and harmony. A time when we give gifts to please each other and ourselves whilst showing how much we dig those closest to us. Sure, it's become commercial, but no true Dudeist is going to be drawn in by that capitalist claptrap. We know what's really important here is the message and the symbolism that the Romans attributed to it, and we also know that that's a message Jesus would have really abided. It's a time for putting one's feet up and enjoying some quality time with friends, family and special ladies, and that's the true value of the season.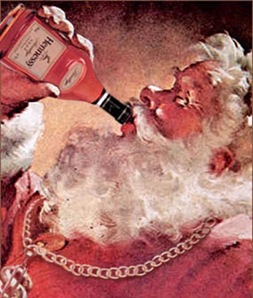 Over here in the UK and throughout the Commonwealth we have, after Christmas day itself, the second day of the twelve, the one we call Boxing Day. In South Africa they call it the Day of Goodwill, which is pretty far out. Now I don't know what it means to everyone, but to me it's always been a second chance for Christmas, and it becomes the day we see the second half of the family, the ones we didn't get chance to see on the first day, making Christmas day twice as long. But to a lot of Brits, I know it's a day to really relax. None of that frantic cooking for lunch, or getting up early to tear open the presents, just sitting down in a comfy chair and watching The Great Escape on the television, or a Bond movie, or any number of annually replayed seasonal staples. This, I propose, is perhaps a true Dudeist day, the one when you can chill even more after the relative excitement of the festivities of Christmas itself, no matter who you are.
So why not make this Christmas a truly Dudeist festival this year. Take it especially easy, and hint that to the family, man. Don't let someone struggle in the kitchen with a roast, just tell them to chill and sit down on the sofa. My family, being of the vegetarian persuasion did just that, we got up, ate a chocolate breakfast and prepared a no-fuss lunch we ate on lap-trays in the living room, before taking a leisurely walk around the corner to see the rest of the family for some fun, games and the annual wrapping-paper fight.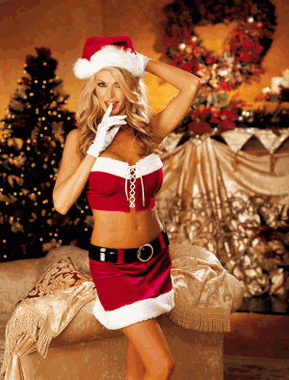 But don't get too complacent in your own fortune here, Dudes. Let us not forget those who won't be at home taking it easy this year. When you turn on the lights in the morning and open the fridge, pour yourself a Caucasian for the man at the power station giving up his Dudemas for you. And when you sit down, take it especially easy in a salute to the woman at the TV station, broadcasting the Guns of Navarone, even if you're not watching it, someone else is, and it's making their day that much more great. Spare a thought for those who aren't able to chill this year, for whatever reason, and wish them a merry Dudemas, if not for the following days, or weeks, but for next year's season, or as soon as they can park themselves down and let stress flow away.
So, Dudes, if you're lucky enough to have twelve days in which to chill this season, answer this, for yourself, those around you, and all the strangers out there, the question posed by the great Elvis (Costello). "What's so funny 'bout peace, love and understanding?" I think we all know the answer to that one.
Merry Dudemas, one and all.