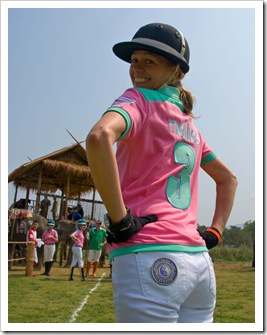 by Rev. Crash Winfield
This year, The Church of the Latter-Day Dude played a key role in Thailand's annual King's Cup Elephant Polo tournament. The colorful weeklong affair was attended by Dudeism's founder, journalist Oliver Benjamin, who was there to cover the event for Asian Geographic Magazine. Not only did Benjamin manage to convert several professional elephant polo players to Dudeism, but he was graciously provided some very attractive advertising space with which to promote the creed.
Elephant Polo may be one of the oddest sports in the world; it is also one of its most endearing. Moreover, despite its generally elite-class attendees, it is an activity that might nevertheless be classified as very Dudeist indeed.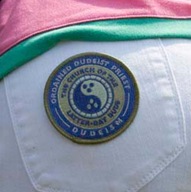 Played on the back of Asian elephants (decidedly more Dudeist than the more aggressive African variety), the game resembles horse polo, only it's played at a far slower pace and its players are fueled with far more alcohol. Furthermore, since a mahout (elephant handler) controls the animal, all one has to do is swing a long bamboo mallet in the direction of the ball (which often disappears underneath mounds of elephant dung). Consequently, those who break a sweat do so more as a result of the tropical heat and the cocktails than any actual strenuous physical activity.
Dreamt up over cocktails at a Swiss Tobogganing club by two British aristocrats, primarily as a "bloody good excuse for a party," the first elephant polo games first appeared in Nepal and Sri Lanka before finally coming to full flower in Thailand. Today the annual event draws teams from all over the world, most of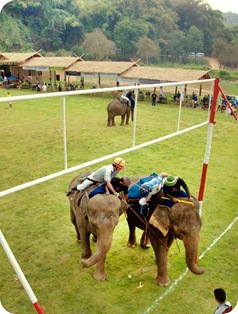 them made up of total amateurs in search a ginger, gin-soaked vacation convincingly exotic enough to dominate dinner party conversation when they return home.
Of course, while we Dudeists aren't necessarily among the most upper of crusts, participating in the tournament need not be pricey. In fact, most teams (even the toniest ones) secure an advertiser to sponsor the approximately $15,000 cost of entry.
Furthermore, although the location in which the games are held is five-star swish (The Anantara Golden Triangle Resort), there's nothing stopping you from opting to crash at a ten-dollar flophouse down the road. Food and drink in the nearby village is dirt cheap, and since the event is often sponsored by boozinesses like Chivas Regal and Moet & Chandon, you can often get loaded for free at the side of the field (or pitch, rather, in the parlance of polo).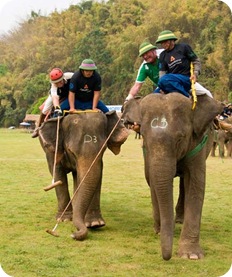 There's no need for the true Dudeist to feel out of place at the event, even if your net worth is less than the jewelry on a single player's pinky ring. Generally everyone is welcoming and warm in that typically colonial sort of way; that is, if they look down on you, they're far too polite and well-mannered to say so.
What's more there are always plenty of journalists and hangers-on hanging around and bringing down the social bar — and for that matter, the bar itself. As a wiser feller than ourselves once said, "sometimes you drink the bar, and well, sometimes the bar, it drinks you."
In any event, in The Big Lebowski, the Dude himself exemplifies a guy who feels comfortable around any and all people, whether they be weirdos, warriors or the wildly well-to-do. So should we.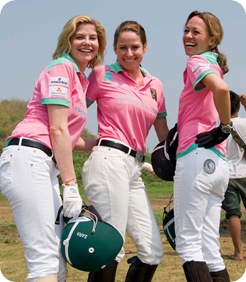 And it's not just a bunch of paunchy silver foxes with curlicue moustaches, either. This year the tournament was distinguished by the fact that there were two very-alluring all-female squads. What's more, captain of the "Nellies" team, comely maiden Claire McNicholl was perfectly happy to help promote Dudeism by providing her perfectly-sculpted posterior as advertising space for the church's new "Ordained Dudeist Priest" patch. It goes without saying that Dudeism got plenty of attention over the course of the week. Thanks, Claire!
And if you think the tournament is all just about fun and games, guess again. The event in fact raises money to aid the Thai Elephant Conservation Center, an organization which endeavors to prevent the population of the country's pachyderms from dwindling — there were 100,000 in 1900, a number which has shrunk to 4,000 today. Sadly, standards have fallen in animal conservation. But the TECC, together with the Anantara's own Helping Elephants charity are helping to draw a line in the sand. This extinction will not stand, man.
Which brings us to our final and biggest point — the elephants themselves. There may be no more Dudeist animal in existence than the Asian elephant. Incredibly sweet-natured, social and self-reliant, this chubby buddy of mankind is in fact one of the most intelligent, loyal, and empathetic creatures in the world. Research currently being undertaken at the Thai Elephant Conservation Center by Richard Lair and Josh Plotnik is poised to prove just that. The truth is, the greatest joy of attending the elephant polo tournament is the chance to hobnob with so many of these huge-nosed, huggable hipsters (they play a mean trumpet).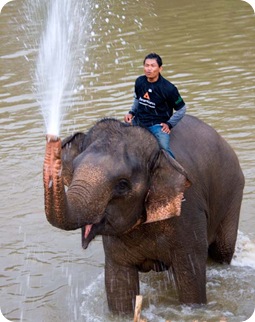 So if any of you elephant-loving Dudeists out there think you can find a sponsor to pony up the baksheesh and want to put together a Church of the Latter-Day Dude polo team, let us know about it. Convincing the sponsor to pay for air tickets to Thailand might prove problematic though. You'd probably have to come up with the bones or clams for that yourself.
So who knows? Maybe this time next year sporting representatives of Dudeism will be clinking white russians with the cream (or at least, the half-and-half) of European aristocracy.
In fact, we Dudeists have more in common with them than some might realize. Aside from a fondness for lazing around and lapping up libations, it should be noted that as privileged men (and women) of leisure, many of them are also unemployed.
Perhaps some day they might say of us: "Fucking Dudeists. Those creeps can polo, man."
I sure hope we make it to the finals.
The King's Cup Elephant Polo Tournament is held in Chiang Saen, Thailand (The Golden Triangle) in late March of every year. More information can be found here: www.anantaraelephantpolo.com