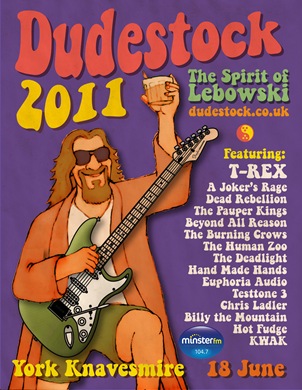 By Arch Dude of York
Kristian Lewin
Organizer of Dudestock
Hey Dudes!
Dudestock 2011 is coming to York this June 18th. Not only is it a chance to showcase some amazing new talent but it's also a chance to wake York up. Dudestock is going to be historic and we've had some pretty durn historic things take place here! Unfortunately Creedence won't be making an appearance though.
The best thing about Dudestock I hear you ask? It's all for charity! Dudeism will be showing its support to York's Special Care Baby Unit. Think about everyone you know who was once a baby, OK so that was everyone you know, but think about those you love and ask yourself what you'd do if they weren't here with you now. What would your life be like if you never knew them? That's the sort of life changing affect a Special Care Baby Unit can have. For as little as £7.50 per ticket you can show your support. We are also welcoming any donations to cover our £15,000 overhead.
Listen to songs from the bands here:
A Joker's Rage: Neighbourhood Watch
[Audio:A.Jokers.Rage-Neighbourhood.Watch.mp3]
Beyond All Reason: Love Crossed Pistols
[Audio:Beyond.All.Reason-Love.Crossed.Pistols.mp3]
Burning Crows: You Me Tonight [Audio:Burning.Crows-You_Me_Tonight.mp3]
Chris Laidler: Just a Tiny Taste
[Audio:Chris.LaidlerJust.A.Tiny.Taste.mp3]
Dead Rebellion: Falling Down
[Audio:Dead.Rebellion-Falling.Down.mp3]
Euphoria Audio: Speechless
[Audio:Euphoria_Audio_-_Speechless.mp3]
Hot Fudge: Stranger
[Audio:Hot.Fudge-Stranger.mp3]
Kwak: You Upset Me
[Audio:Kwak-You.Upset.Me.mp3]
Test Tone 3: The Time is Now
[Audio:TestTone3-The_Time_Is_Now.mp3]
The Deadlight: Time On My Side
[Audio:The.Deadlight-Time_On_My_Side.mp3]
The Human Zoo: What's In Between
[Audio:The.Human.Zoo-What's_In_Between.mp3]
The Pauper Kings: Why Can't I Make it Clearer
[Audio:The.Pauper.Kings-Why_cant_I_make_it_clearer.mp3]
Your money will go a long way to making families lives easier and will offer an awful lot of comfort for those who need it.
£20 gets the Baby Unit new toys for the little kiddies to play with, £1200 gets a mother a breast pump to feed her baby and £13,000 gets a new incubator. Will you be able to show your support?
Tickets for Dudestock 2011 are now on sale through ticketweb.co.uk. This is the link to take you straight to the sales page.
If you are unable to make the event but you still want to help make a difference then please take 2 minutes of your time and send an email to me, Rev. Kristian Lewin, the Arch Dude of York here for details on how to donate. No donation too small and if every ordained minister donated a mere 15p (23 Australian Cents, 17 European Cents, 24 US Cents, you get my point) we would at least be able to cover our overhead.
Let us give the children and their families lots of strikes and even the chance to roll a few gutters throughout a long and healthy life!
Take 'er easy!
Arch Dude of York Kristian Lewin
Dudestock Committee President and Event Manager
Find us on Facebook
The Dudestock Website
Check us out on MySpace
Purchase your tickets here!
Email: grandolddudeofyork@live.co.uk
Tel: +44 (0)7790 509 100, +44 (0)1904 466 567