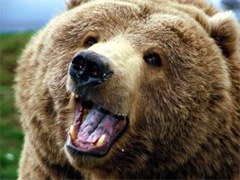 The Grizzly Bear (A Dude Becoming)
I had a couple beautiful summers working as a naturalist / hiking guide up in Denali National Park in Alaska. In that time I saw lots of grizzlies. The place is a veritable grizzly Mecca. Part of my job was to know the ins and outs of the grizz, the strands of their existence, then find bears to watch and share my knowledge with the lodge guests.
Now, I know at first sight the average Dude, the urban Dude and the Dude who has only seen grizzlies through the lenses of Hollywood might think "Ferocious grizzlies are Dudeish? No way, man. They eat people!" Yes, sometimes, very rarely, they do eat people, but they actually could eat many more than they do. Grizzlies are huge powerful killing machines. They are kings of the Tundra — fast enough to run down a caribou at short range and powerful enough to break a moose neck with one paw swipe they maintain their position at the top of the food chain. Yet, in the everyday life of the grizzly, very little unchecked aggression goes on. You see, grizzlies are lazy, perhaps the laziest critter on the tundra which puts them high in running for laziest world wide. Grizzlies spend most of their time with their head down grazing like a cow, first on grasses, then later in the season on berries. These are the interior tundra grizzlies I'm talking about here, not to be confused with their equally lazy, coastal, salmon-eating cousins the brown bear (they are the same species, however). The grizz looks up once in a while and might even be thinking how tasty a caribou leg might be about now but caribou would require running, catching and killing and so, fuck it, let's just keep grazing dude.
The most stress in the life of the grizz comes when he has to pack on pounds before a very long nap. He gulps down as many pounds of blueberries as he can before digging into a bank to sleep for a good six months at least. Now is that a dude or what? After the half year nap the grizz wakes up really hungry and as ornery as if someone snatched the rug that really tied his whole den together. He gets a bit undude in early spring and eats a few moose calves. That is, if he can catch the little brats! But once he get full up on those good mooseburgers and the belly stops growling, the grizz goes back to his preferred Dudeist ways, digging up Eskimo potato roots and grazing on grass and sedge until the berries ripen again. So, grizzly bears, big tough and ferocious as they may seem, are really Dudeists at heart.
Still, it is hard to imagine a growling grizzly on hind legs as a Dude. The violent ferocity, the massiveness, the ego that comes with knowing you are bigger and badder than anything else around. One can imagine a grizzly defensively standing in front of a moose carcass growling, "What's mine is mine!"
So perhaps the grizzly is too Walteresque to be a true Dude. However, Walter is the Dude's best friend, which means even if he does not openly express Dudeism, he is attracted to the Dudeist way. Walter is in some ways, practicing to be a Dude. So far as to sometimes out master the master — "Calmer then you are" he points out when the Dude momentarily loses his cool. Much like the monk that enters the monastery diligently meditating in hopes of self-improvement, isn't Walter shown to be on the Dudeist path via his admiration of the Dude and his dedication to bowling as a zen-like substitute for aggression?
Thus, the grizzly is a lot like a big Walter with a soft Dudeish heart. Will the grizzly bear evolve totally away from its ferocity, from its occasional eating of a baby moose or an occasional tourist? Will it evolve, like the Panda bear and the Mountain Gorilla into a complete vegetarian? A complete pacifist? A true fuzzy Dude? Only time can tell. Animals evolve or go extinct as their ability to survive allows. Their evolution ultimately depends on shifts in the environment and the actions of competing species. But for now, I like the grizz just as he is, as a Walteresque transitional Dude: A Dude Becoming.
I like his style and wish him well. In an age of dwindling populations of large mammals I hope at least, to see him further on down the trail. Maybe not on the same trail I'm on, but some trail, somewhere, probably through binoculars.