Dudeman Nature #1
Doctor Dudelittle: The Inherent Dudeism of Animals, part 1
By Rev. Art Schaub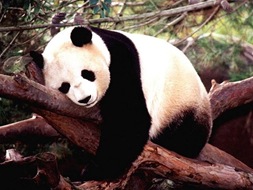 As practicing Dudeists we have all observed that people in the general populace are imbued with varying degrees of Dude.
For instance, there are some with so little Dude in their being as to be considered Antidudes. Loud, obnoxious, violent and unyieldingly opinionated, these folks constitute the opposite extreme of Dudeism. On the other hand, we encounter folks that, even if not fully realized Dudeists have a bit of the Dude flowing in their being. Take the guy that is stuck working hard in a stressed out office all week long to support his family, yet on the weekend likes to take a long slow drive through town listening to CCR. Not a full-blown Dudeist but at least an admirer of the way. The ultimate goal of lounging in our bathtub listening to whale songs while smoking a spliff with no idea what day of the week it may be (Dudervana, if you like) is not easily attainable by all. It takes a degree of slackerdom most people are not undisciplined enough to accomplish.
There is certainly a tendency for individuals to align towards or away from this most holy of states. Take the guy in the used book store who got back late from lunch just in time to sell you a tattered version of "Breakfast of Champions" by Kurt Vonnegut. He taps the cover of your newly purchased tome and says with a classic stoner chuckle "nice one man," You just know there is a white Russian somewhere in his not too distant future — very Dude. But then his store manager openly barks at him for chatting too long with the customer and not sweeping out the supply room — very unDude. We witness varying degrees of Dude, a Dude Continuum, so to speak, contained within cities, institutions, rooms, groups of folks and even within individual people themselves.
So, if there is a spectrum of Dudeism throughout the human population, what about our animal friends? Do animals experience Dudeism? Can we witness the Tao of Dude in the animal kingdom? Are some animals more Dudeist than others? Well, in order to explore these questions we must first realize a few things about animals and nature in general.
In nature, every living creature survives because it fills a "niche". Think of a "niche" as a job. The same way we have chilled out book store workers and fascist store managers in the world of humans, the animal kingdom is full of critters doing different jobs. For example, rabbits eat vegetation; they keep the brush pruned back so it doesn't overrun the field and forest. That is a rabbit's job or it's "niche". Rabbits are herbivores.
Now, hawks eat rabbits. This might sound cruel at first, eating cute little bunnies for a living but the hawk's job is to keep the rabbits from overrunning the brush because, well, they breed like rabbits and left unchecked will overrun the place and eat everything, plain and simple. A hawk is a carnivore. That is its niche. Herbivore and carnivore doing their specific jobs help to maintain the "Balance of Nature" that we all have heard about.
This is all well and good, the balance of nature in the struggle for survival. The "survival of the fittest" as Charles Darwin put it. The creatures that are able to fill a niche and make a living survive, those that can not perish. Or as the "Big" Jeff Lebowski aptly said "Every bum's lot in life is his own responsibility." This certainly makes survival sound like an arduous task, and does account for a lot of the aggression and nervous tendencies of many animals. Indeed, life is a struggle. The general opinion of the life in the wilds is that it's a dog eat dog world out there, do or die, only the strong and swift survive. And so it is for many species, perhaps most species, to live and die under "nature, red in tooth and claw" as Tennyson put it.
Yet, is it just possible that some species have evolved differently? Is there a thread of Dudeism woven through nature that some species have employed in their Non-struggle to abide? Are there species that do not conform to the Darwinian struggle for survival but have alternatively decided to take 'er easy and live by the Dudewinian code of "Fuck it, let's go bowling?" I suggest that there are and I will tell about a few I have run across in my experience as a field biologist. These are species that have won the survival of the fittest by being complete slackers. They live calm lives and do as little as possible. These are the Totem animals of the Dudeist creed: Critters that a Dude can reflect on and draw inspiration from in his quest to do as little as possible. Takin 'er easy for all us sinners. We can take comfort in that.
Presented here are three species that I have been able to work with and observe in the field over the years that, to me, really capture the Dude Continuum in the animal kingdom. These critters portrait in their life histories that not only have Dudes existed throughout history, before Dudeism was ever discovered but that Dudeism has existed as a force in nature long before humans ever existed. The Tao, The Force, The Dude all natural phenomena woven into the fabric of life, seeped into the primordial ooze, as stardust hurtling through the cosmos, across the sands of time/space…Aw look at me, I?m rambling again. Anyway, lets take a look at these Dudeist critters and hopefully get an idea of how Dudeism works in nature.